YouTube is one of the emerging online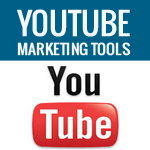 promotional tools,  which can help your
business promote your products  and services.
We have collected some of the best
YouTube tools which will aid and assist this area.
Here they are in no particular order:-

YouTube Analytics :- This tool helps you to track the visitors who are actually
watching the videos you post. You can also view activity on your site
and compare the same with other sites.
YouTube Feed : – Whenever a new video is available on your YouTube
Homepage Feed, this extension notifies you in a timely manner.
YouTube Smart Pause: – If you want to use YouTube for research purpose,
this tool is for you. This tool offers options to pause YouTube videos when you leave the tab.
YouTube PIP: – This extension will launch a small video player which remains on top
of all windows. That includes MS word, Excel, etc.
YouTube Ratings :- This tool shows a bar of likes and dislikes under every
video snapshot. You can view the rating of the video before you watch the actual video.
Toggle Comments: – The Toggle Comments extension will automatically hides the
comments from all YouTube video pages (default behaviour) but you can
always press the "Comments" switch to bring them back.
We hope you find these tools of value
Thanks
The TIB Team