Industry experts firmly believe that the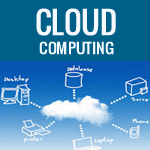 upward trend in cloud computing is here
to stay and this new technology will continue
to develop further in the next few years.
According to Gartner the Cloud Computing Industry is
estimated to be worth $150 Billion in 2013
Small and medium sized businesses are the largest
growing segment in this industry but some appear to
be less enthusiastic about embracing this new technology
than others.
So we have put together a list of advantages and disadvantages
to help you decide if cloud computing is for your business.
Reasons why cloud computing can be a good solution for small businesses
·         Cost Efficiency – Software over the cloud is the most efficient way to use, upgrade
and maintain the software that you need. Software licenses cost a lot and can be a heavy
load on the finances of a small business. But, on the cloud, software licenses are available
for use at very reasonable rates. This lowers the expenses of the company.
The pay-as-you-use, or other one-time payment options make is easier to source
and use the latest software that a business needs.
·         Storage as per your requirements – Small businesses can buy storage as much as they
need and can then increase storage as per requirements. This then gives you an option of
unlimited storage. Small businesses can then do away with unnecessary expenses
and management of additional storage space.
·         Unhindered Backup and Recovery  – Most cloud service providers cater to backup of data
and appropriate recovery procedures. So, your business can subscribe to backup and recovery
services and do away with the stress of physical backup at your locations using traditional methods.
·         Automatics software updates and integration – Cloud service providers cater to
installations of latest patches and upgrades of software. This takes away the need for you to keep
your software updated. In addition to this, you can choose the services that you need and the
customization required for integrating different software that you need for your business.
·         Ease of access to information – if all information regarding your work is available
on the Cloud, you and your colleagues can access this information from anywhere irrespective
of the location and time zones. All you will need is an Internet connection.
Disadvantages and Risks involved in cloud Computing solutions
There are many benefits of cloud computing. But, small businesses need to be
aware of the risks involved in cloud computing.
·         Unwanted software updates – The advantage of cloud computing which lets you
have the latest updates of software, but at the same time, some upgrades may
not work well for you and your business.
·         Technical and connectivity issues – If all your information is on the cloud and
if there is a problem with internet connectivity, you may not be able to access any information
and this can be harmful to your business depending on the criticality of the situation.
·         Security of data and information – Security of data is a major concern about storing
data on the Cloud. All your business data and information will be stored on the cloud and this
may be a cause for concern when the information is sensitive or private. You are not sure
whether this information will be used by unauthorised personnel for malicious purposes.
You have to be very careful and meticulous regarding the security that your
cloud service provider is providing to you.
Conclusion
Cloud computing comes with its share of advantages and disadvantages.
Small businesses can also benefit by using cloud computing technologies,
but, at the same time, you have to be aware of the risks involved and mitigate them accordingly.