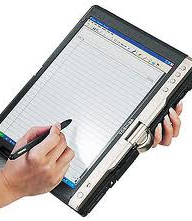 Tablet computers are the latest innovation
to hit the world of computing and business.
With a tablet computer you have an all in one device containing a touch screen, processor, storage and wireless/internet connectivity.
There has been a surge in use of these devices in business mainly driven by the introduction and success of the Apple iPad.
While not replacing the laptop computer in business the compactness and portability of the tablet PC along with the emergence of the Apps software marketplace and cloud computing has ensured the position of the tablet PC as an important business tool for the future.

What types of tablets are available
There are continuous developments taking place in the tablet PC market but they can categorized under 2 main headings:
– The Apple iPad powered by Apple's own software and online Apps store and
– The remaining Tablet PC suppliers powered by the Android o/s and Android Apps marketplace.
Advantages to business
There are a number of advantages a Tablet PC can bring to a business:
Added Productivity
With a tablet PC a business can be more productive while on the move. You can interact with your clients while onsite with them and respond to their needs straight away. You can communicate back to a central office or with your co-workers in a more timely fashion thus speeding up decision making. You can access your business data while on the move and update it when required thus saving on paperwork and labour.
Mobility
The tablet PC can be used very easily while on the move. It is also very light so can be carried around and used while in conversation or working mode. Some also have built in cameras which can capture photos. The tablet pc can be used in portrait or landscape mode with the screen layout adjusting to each.
Wirefree
The tablet PC is designed to be easily charged and used while on the go. There is no messy power cables to be plugged in and inhibiting your mobility. The tablet PC also has built in Wifi and even 3G in higher spec models.
This allows internet access from any location ensuring you can communicate with your staff,co-workers
and customers at any given time thus saving on time and ensuring good customer service.
Compactness
The tablet PC has been designed to be as compact a device as possible. The touch screen normally has been sized at 10″ which gives the size dimensions to the PC. This touchscreen also acts as a touchpad input and visual output device. This compactness has also allowed it to be as portable as possible.
Business Apps
There are a large selection of business apps or applications which can be downloaded for your tablet PC.These will be downloaded from the Apple or Android Apps Store depending on the make of your device. These apps will improve productivity as they are designed to meet a need or aid a business application and are very inexpensive to buy.