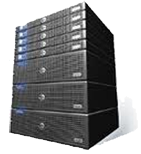 Now everyone can afford the reliability, security and scale-ability of the Cloud.
Our virtual servers are made to grow as your needs grow.
Get all the power and control of your own Dedicated Server for less!
With a Technology in Business Virtual Dedicated Server, your RAM and
storage are guaranteed – we never overload. Plus, you can add more
capacity anytime with just a few clicks*.
Not sure how to set it up? Our experts will help get your server up and running fast!
Just choose the plan that's right for you, customize your bandwidth, control
panel (Parallels® Plesk Panel or cPanel®) and backup options and leave the rest to us.
Select an operating system:
CentOS
Fedora
WindowsCentOS Version 5.6 is the operating system of choice for
those looking for a highly stable version of Linux that offers enterprise-level reliability.
What is Virtual Dedicated Hosting?
A virtual dedicated server works just like a shared hosting account, having multiple accounts located on one server. However, as with dedicated servers, you the customer also has full control over your individual virtual dedicated server. It is also sometimes called VPS and the main difference between a Virtual and dedicated server is the virtual does not have access to all the resources that a dedicated server tends to provide.

The virtual server shares the resources of the main dedicated server where it located. This allows for multiple accounts that share the system resources, in some cases between 6 and 10 virtual servers could be placed on one single server. So essentially then the only difference is in the hardware limitations between a dedicated and virtual dedicated server.
Comparing a virtual dedicated server to standard shared hosting is really only down the level of access you will have with your account. Standard Shared hosting generally only gives you Basic FTP access, also access to a control panel to manage most standard operations. However with the virtual dedicated server you will also have complete root access, this will enable you to essentially perform any operation you would like on your virtual server.
Support is usually provided under the following headings
Fully Handled – Includes monitoring, software updates, reboots, security patches and operating-system upgrades in this case the client is totally dependent on the service provider.
Handled – Includes medium degree of management, monitoring, updates, together with a limited level of support. Clients may perform specific tasks themselves.
Self Handled – Includes regular monitoring plus some maintenance. Clients provide most procedures and tasks on devoted server.
Unmanaged – Virtually no participation from company. Clients provide all maintenance, upgrades, patches, and security.
Security considerations with a Virtual dedicated server
Dedicated Virtual hosting service providers employ advanced security measures to guarantee the safety of the internet data stored on their network or servers. Providers will often deploy various kinds of software programs for scanning systems and networks for possible threats from external invaders, such as spammers, hackers, and other potential harmful threats to the dedicated server
Why Technology in Business Servers:
Admin access: Install and run virtually anything on the server.
Manage multiple Web sites: Host multiple Web sites on one server account.
Versatility: A dedicated server/virtual dedicated server can be used for a wide variety of purposes, including gaming, virtual (i.e., shared) hosting, and hosting of traffic-intensive Web sites.