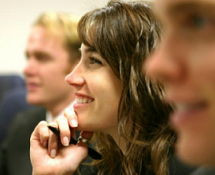 We offer flexible, cost effective corporate and personal training solutions for all your business training needs.
Well-trained staff are generally more motivated and in turn are more productive. Your employees are normally your biggest expense and your company's most important asset. We offer you a wide range of quality training courses for all your business needs.
Our courses include:
Management Training Courses
We offer powerful, practical business-learning solutions in Ireland. Our professional Management Courses take your career and your company to the next level. Our management training courses cover every aspect of organisational enhancement and career development.

Supervisory Management Training Courses
We offer intensive supervisory management courses for Supervisors, Team Leaders and those new to management where they will acquire the valuable skills needed to become a success in management.

Project Management Training Courses
Our courses are designed to take new and experienced Project Managers through the whole project management process including people and task management.
Sales Training Courses
From basic selling skills to advanced sales management strategies, We offer you comprehensive range of Sales Training Courses to guide you through every stage of your professional sales life – to help you build long-term customer relationships. Whatever level you're at in your career, you'll discover how to increase sales, keep your customer base intact and expand your client list.
Customer Care Training Courses
Providing a first class customer service and creating the right impression first time is a must for front line staff. To be successful at customer care requires an understanding of customer expectations and the skills to exceed that expectation, even when faced with difficult customers. All our training courses can be tailored to suit your individual needs. Take a look at all the features that separate us from other Customer Care training courses.
Human Resources Training Courses
As more day-to-day Human Resource decisions are delegated to line management, the role of personnel and training specialists is changing. Aimed at those embarking on a career in HR or taking on new HR responsibilities, our courses
provides a broad overview of Human Resource issues. We have an extensive range of HR Courses for you to choose from.

Finance Training Courses
If you are competent in understanding and managing the financial aspects of your day-to-day business, you will be far more effective in your job, and with a course tailored exactly to your own requirements, we can provide you with the tools you need.

Personal Development Training Courses
Our Personal Development Courses take your career and your company to the next level. Our courses cover every aspect of organisational enhancement and career development.

Office Administration Courses
Our Office Administration Courses cover a broad range of fundamental business and office management competencies. It is suitable for secretaries, administrators, receptionists, call centre staff, and clerks.
Contacting Us: