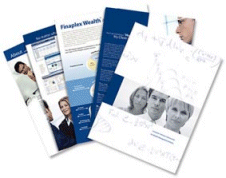 We can provide a wide range of marketing materials for all your Business Promotion needs. In association with our partners we can offer you state of the art equipment and highly skilled designers at your disposal you can rest assured that what we create will be both compelling and attractive.
Here are links to our Partners services:
1. General Marketing Materials : Including Printed Solutions
2. General Marketing Materials : Including Popup Signs and Posters
3. Other Promotional Solutions : Including Tradeshow – Boots and Exhibits
Leaflets and flyers
We are experts at building and developing high-class flyers and leaflets for you and your organisation. You can depend on us to help you promote your company or service through the correct channels that being the procurement of a leaflet or flyer from us. We print in full colour both sides and have the ability to supply you with images and content that both you and we consider relevant and effective.
Brochures
Our design team have years of experience in developing brochure designs and are highly creative but not too technical. We will ensure that what you receive in relation to your initial intentions will not be far of the mark. In short we can make brochure design and Brochure printing an experience that is both rewarding fulfilling and above all effective.
Presentation Folders
That conference or corporate opening can be lifted with a simple presentation folder design and can portray your company ethos effectively and efficiently at a reasonable price.
Catalogs
We can take your idea to produce a catalogue, outlining your products or services, from concept to design to print. Working in such a unique market has allowed us to help organisations nationwide by providing them with great service and quality, quicker turnaround times and excellent pricing. Our expensive network of designers and developers help us to finish our task within short span of time with lower waste.
Our eye catching design, the paper quality and printing facility helps to successfully handle your Catalogue Printing requirements. We take into consideration the importance of each printed piece to our customers in spite of the quantity and colors.
Banner Stands
To make your advertising more effective we provide banner stands and portable display solutions for trade shows, conferences, seminars, events, lobbies, career fairs and more. Our
and displays are designed to be lightweight and easy to set up so you can achieve your exhibiting success. We also offer a range of Exhibition stands from portable and economical to heavy duty and custom designed.
Posters
We can help you design and print an engaging and informative poster balancing design and content with practical PR techniques. Our posters are developed with your intended audience in mind and this is where we excel compared to others in the market. Posters can take many shapes and sizes and we cater for all areas of the market. Let us help you make those decisions and accelerate your thought processes and get the job done.
Calenders
From time immemorial millions of people have been using calendars for various reasons. To keep track of dates, special events, festivals, to make list and notes and to post reminders are a few of them. These days calendars have emerged as a successful marketing medium for product endorsement. That's why marketing teams are increasingly using calendar printing for product advertisement.
Stickers
Stickers have come a long way from just being the items for decoration and labeling. They have emerged as an innovative tool for marketing and advertising. To improve the brand image and also to promote identity,many businessmen prefer stickers over other means. The colorful stickers and labels, with effective graphic and logo has become the integral part of businesses now.
There are many types of stickers available to choose from. The major types of stickers used are:
• Flexible stickers: It is used to put around curved objects. These flexible stickers are mostly made up of litho stock with added latex.
• Bumper stickers: They are made with vinyl or plastic for durability and weather proving.
• The scrapbook and card making stickers: They are manufactured with foils to give metallic looks.
Scratch Cards
The scratch cards are used extensively for gaming purposes, lottery, marketing campaigns, fund raising events, store opening etc. The excitement that is generated after having scratched the scratch card, surpass all the other means of campaigning. This small rectangular bundle of surprise is popular among the young and old alike. The low cost of the scratch cards is one of the major reasons for its popularity. The consumers demand for scratch cards can be increased with a little effort.
There are different types of scratch cards available to suit any campaign. Whether it's used as marketing tool or as a gaming tool, scratch card is everybody's popular choice. The scratch cards are called by different names for different purposes.
The second chance sweepstakes can increase the demand of scratch cards. This also reduces the problem of littering.
The scratch and win cards have a film of latex which covers the vital information and has to be scratched to find the prize.
The break-opens are the scratch cards that are used in the bingo halls as bingo cards.
These have concealed information which the buyer has to break so as to find the winning combination.
The scratch cards are mostly available in a regular size of 100mmX 50mm. But one can customize the size also.
The super scratch cards are the bigger ones of 135mm X 97mm size.
One can have scratch cards which have different colors on them or the ones which are monochromes.
You can also customize the scratch cards with different color combinations on the front and back.
Though scratch cards are the fun addiction and irresistible means of advertisement, they are also used by
telecommunication companies for providing top up credit. This proves that the scratch cards fully adhere to all the security standards.
The TIB Team