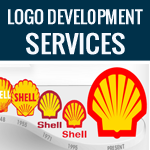 Effective logo design is simple and we are masters at making the complicated simple and not the simple complicated. We would like to develop an identity for you that can speak
volumes about you and your company. Your logo as never been in safer hands and we can assure you that you will be wholly satisfied with the final outcome.
Logo design is our speciality and you can discuss your requirements right away by calling us. We will be more that happy to work together with you in developing your logo and corporate image.
Here are some recommended Services
In developing your logo we utilise the experience of our talented design team in order to produce what we consider is a compelling and eye-catching final logo. If you like we can provide you with several options and not like other design and printing companies we don't charge for additional changes.
Your logo is the cornerstone of your brand.
Properly designed, they communicate to your employees and your customers that your company is credible, trustworthy and professional. Your business image depends on a logo design that is polished and distinctive. Not only does a high quality logo show your customers that your business is professional, but it also differentiates you from your competitors and creates a powerful memory in the minds of your customers. When they need your product or service, they'll think of you.
The TIB Team