Ideal for business use, the Samsung Galaxy Note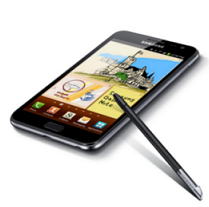 is a power-packed virtual assistant you carry in your pocket.
The 5.3-inch screen saves a lot of scrolling time
by letting you see more.
Since the device is an Android, it opens access
to thousands of Android market apps and is
supreme as a digital notepad with fantastic bonuses
like video conference calls with user capability
to annotate right on the screen with the S Pen.
1. Work Calendar Lite
The format of this scheduling application doesn't need an Einstein to figure out how to
enter or obtain information. Your appointments have never been easier to coordinate.
2. >Documents To Go
This app gives you the luxury of looking at your documents when you're sitting in a
waiting room, getting ready to go into a meeting, or you're in transit between clients.
With Documents To Go on your smartphone, your files in Excel, Word, or PowerPoint
are available with the touch of a finger.
3. >File Manager
This app makes it easier to organize and manage your documents much like you do from
your desktop. Arranged for efficiency, your smartphone will keep tabs on your spreadsheets,
letters, appointments, emails, and contacts, decreasing the daily hassle of trying to keep
everything up to date.
4. >Dropbox
Another must-have app, Dropbox, saves your documents, videos, and photos to the cloud.
The files are easy to access from basically anywhere with an online connection for a computer
or compatible mobile device. Files stored in Dropbox are password accessible.
An amazing asset to your arsenal of smartphone apps, this one lets you complete and sign
documents while you're on the run. You can share the forms using Bluetooth, Dropbox,
or email. Your digital signature can be attached to any document sent to your mobile inbox.
Tired of hauling around a portfolio packed with business cards you might need one day?
CamCard Lite gained the reputation of one of the best apps for 2011 because it relieves
that burden. You take photos of business cards and store them in an easy-to-view
collection. It doesn't get any easier than that.
7. >VAT Calculator
This well rated app takes the heartburn out of calculating VAT for those annoying budget
and expense forms. It calculates the VAT in literally seconds, giving you the purchase data
with and without tax added.
8. >ConvertPad
Remember when your math teacher badgered you to memorize how many inches and feet
were in a yard, and you never quite got around to it? The problem is solved with this app
that converts measurements in a snap, including those inches and feet and yards plus
currency and weights.
9. >Call Blocker
Finally, there is a phone app that will stop and block unwanted calls and give you more time
to deal with the calls you need to take. You key in the phone numbers you want Call Blocker
to filter and it doesn't ring them through. You'll enjoy the luxurious privacy.
10. >Battery Saver
It's an advantage to have a smartphone that can do as much as the Samsung Galaxy Note,
but the last thing you want is a dying battery. This app extends your smartphone's battery
life by conserving energy from the apps not in use.