Machine to machine of M2M technology connect lots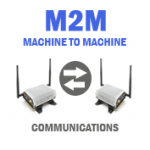 of different devices to the same network so that they
can communicate with one another and share
data and information in real-time.
The connections are handled and monitored automatically and
remotely so that processes can be streamlined for any industry.
In healthcare, for instance, machine to machine connections can
inform doctors of the information obtained on heart monitors at patient's
bedsides in other locations.
Here are some direct benefits this new technology offers Industry and Business.

Cost-saving and increased efficiency
The Efficiencies that result from machine to machine technology bring cost and time savings to any business. Information can simply be passed from the source via wireless technology so that it can be received almost anywhere and at any time. The number of machines that can be connected is not limited and can be extended to incorporate a whole host of machines in different locations so that information can be shared, collated, and feedback in the most efficient manner possible.
Using information in real-time
When one begins to imagine the possibilities that machine to machine connections afford it is easy to see how popular and widespread the technology will become. At first, one might consider sourcing meter readings from one location and sharing the information with bill providers so that on-site visits are no longer necessitated. This can be extended to actually monitor energy usage at source and review usage so that any changes can be managed and any disruptions can be dealt with instantaneously.
Getting advice from the experts
Services are available that exist alongside machine to machine connection services. If you are new to the concept then you can enlist the support and advice of experts who will help you identify those network-ready devices that you have in place that would benefit from wireless connectivity. They can help you work out how you can get the most from these connections and how you can use and access the information this provides you. You can receive advice on how you can streamline these processes to increase your productivity and maximise on your profitability too. Improved services naturally translate into improved relationships with your customers.
The growth and expansion of machine-to-machine technology
Extensive experience of wireless technology and a thorough understanding of global networks have brought the innovative machine to machine connection service together to create the possibilities that this technology can provide to businesses. The ease with which information can be sourced, shared, and accessed has increased efficiency for many businesses so far and is set to make a profound impact on industries worldwide.