Since the dawn of the Smartphone, the number of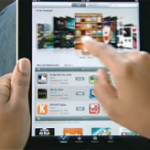 websites that are accessed daily from mobile
devices has increased rapidly, with perhaps
the biggest increase seen since the
launch of the iPad and other tablets.
Sitting down at a desktop PC to carry out transactions
from home at one time seemed very convenient,
but with the continued improvements and faster
Mobile networks, plus reducing data costs users want to
access the internet on public transport, from restaurants and bars,
and from pretty much any other location.
Some interesting statistics on this topic:
Nielsen reports that 46% of US mobile phone owners have a Smartphone in quarter 4 2011.
32% of employees globally now rely on more than one mobile device during their typical working Day
65% of mobile workers use a tablet , 27% of mobile workers use a tablet for work
More than half of all mobile workers (64 percent) use a PC tablet
Smartphone Users Account for 38% of Mobile Phone Users
This has placed added demands on website owners who need to ensure their websites are
accessible and compatible with these new devices and audience.
If your website is not compatible with these devices how can you overcome this challenge?
One solution is to upgrade to a next generation website, this is because they are compatible with
all of the latest mobile devices and can also be optimised further through the use of various third
party plugins to provide a website that will be accessible to a wide variety of devices
of various screen sizes and resolutions.

New complete specialist service
Our associates over at Next generation websites offer a number of choices and
provide a complete service and can help you upgrade your website to the next generation.
See their website upgrade Packs here:
The end.