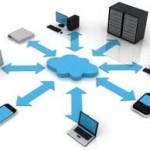 There are many reasons why you might want to
opt for the cloud technology and the services that this brings.
There is the instantaneity of the setting-up process
and the speed with which you can set up your
client software, as an example.
There is also the fact that you do not have to part with any of your money up front and you can alter your
requirements as and when you need to. There will be innovations that you will benefit from that
other providers won't be able to offer you, simply because of how advanced cloud services are.
If you are thinking of opting for cloud or any other provider, do your research.
Naturally you will want to pay as little as possible for what you need.
Are 'freemiums' a good idea?
'Freemium' as it has now been termed is the idea that you get free access to files from a number of locations up to a certain imit. Competitors that charge for their service argue that this is a false economy and that freemium providers will over-charge once you have exceed their limit to account for their users that don't incur charges but maintain free services. If you have opted for a freemium service then you may well end up paying out substantially more. If you think you are going to need a great deal of access and you require greater storage space then perhaps consider a provider that will give you a standard fee.
What are your requirements?
In terms of customer relations management there are some big names out there that offer CRM services but there are some lesser known, equally good services too. If the number of contacts you need looking after is quite small then big names will offer you a fair price but you can expect those costs to mount up as your contacts increase. The standardised price for the likes of Salesforce.com is over 60 dollars whereas Sage offers a lower price of around 45 dollars each month. Do your research to work out which of all of the providers is going to give you the better and cheaper deal.
What to think about before choosing a provider?
Your main focus areas when deciding which provider to go for will include the number of people you need to consider and what the arrangements are in terms of licensing. You will need to think about how much you are hoping to grow too and whether this is a likelihood in the shorter term. You might enter into an account that offers a low start-up fee for a limited service only to find that your requirements become substantially greater as you grow so and you end up paying much more than you had anticipated.
Think about the data that you are entrusting the provider with. In the event that you want to leave the provider and start another account will they be difficult in giving you your information? Under what terms does the provider release or withhold access?
There is a lot to think about when choosing your provider so keep these points in mind and take in
as much information as you can before committing.
The end.