Tablet computers are enjoying an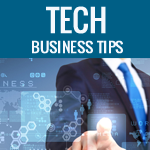 astronomical rise in popularity.
Apple have sold over 100 million iPads worldwide,
and it was reported in Spring 2012 that 31% of
American internet users owned a tablet.
Although tablets are traditionally for personal use, they're becoming more
popular among business owners. Here are some ways of incorporating tablet
technology into your business.
Take minutes in meetings
Electronic minutes are far easier to share than their paper equivalents. There are
numerous ways of writing on a tablet – using the integral touch-screen keyboard,
an external keyboard, or even a handwriting-recognition app and stylus.
You could use a laptop to take minutes. However, a tablet is lighter and smaller
than a laptop – useful if you have to travel to the meeting.
Check stock
Anyone who's ever worked in retail will recognise the 'disappearing customer'
phenomenon. If a customer asks whether something's in stock, the staff member
has to physically go to the location and check. During this time, the customer
often walks away, deciding not to make the purchase at all.
Rather than leaving a customer, staff members could use a tablet to check stock
levels remotely. In larger stores, it's often impossible for workers to know the
exact location of each item. Tablets could also be helpful here as portable store
maps, allowing staff to take customers directly to a product, without a delay.
Presenting materials on the go
Tablets could even eliminate the need to show customers a physical product at
all. They can be used as an effective sales tool, serving as a compact,
all-inclusive catalogue, containing high-quality images, videos and
demonstrations.
This is particularly useful if you don't keep all of your products in stock, or are in
the business of customising items. Take payment
Tablets can also reduce the need to queue for payment in shops and restaurants.
Apps and plug-in devices like SwitchPay and PayPal Here can be used to turn a
tablet into a portable till. If this use of technology takes off, it could eventually
eliminate the need for fixed check-outs in stores.
Sign people up to a mailing list
Businesses often encourage their in-store customers to engage with the brand
online. This can be done in many ways – one of the most common is to offer an
incentive for visiting the company website, usually printed on the end of a
receipt.
However, tablets provide a far more effective way of drawing people online.
Customers could be invited to sign up to a website or mailing list at the point of
sale, via an app on a proffered tablet.
Sign a contract
Despite modern technological advances, there's one situation which still requires
pen and paper interaction – signing a contract. However, tablets could finally end
this outdated practice.
Cloud-based apps like DocuSign allow people to sign documents electronically,
writing their signature with a stylus or finger. Sales teams could use this
technology to sign off on contracts whilst out and about.
Take food orders
Tablets can speed up the process of ordering food in a restaurant. Companies like
Yo! Sushi issue their servers with tablets, which are then used to take customer
food orders. This information is then relayed automatically to the kitchen, so the
server doesn't have to waste time relaying the order in person.
You could go one step further, like San Diego restaurant chain Stacked. In 2012,
they announced the decision to give specially-adapted iPads directly to the
customers, cutting out the need for servers to take orders altogether.
All of these functions can be performed using other devices. However, tablets are
unbeatable when it comes to speed and style. Tablets could make day-to-day
operations quicker and easier to perform, particularly if your business is
fast-paced and customer-centric.
This article was written exclusively for Technology In Business by Sally Swales of
ExecutiveOffices.co.uk You can follow her on Twitter at @SallySwales, and
Executive Offices at @ExecOffices.