The face of marketing is constantly in flux, with strategies rapidly evolving in order to compete for the attention of a fast-moving consumer audience. Retailers go to great lengths to create high-quality customer experiences that promise to outshine competitors, and in-store AV marketing has become an increasingly popular part of the mix.
The use of Audio Visual systems can enhance the atmosphere of retail outlets, allowing for creative messaging and interactivity that connects with customers, delivering a big impact for consumer brands.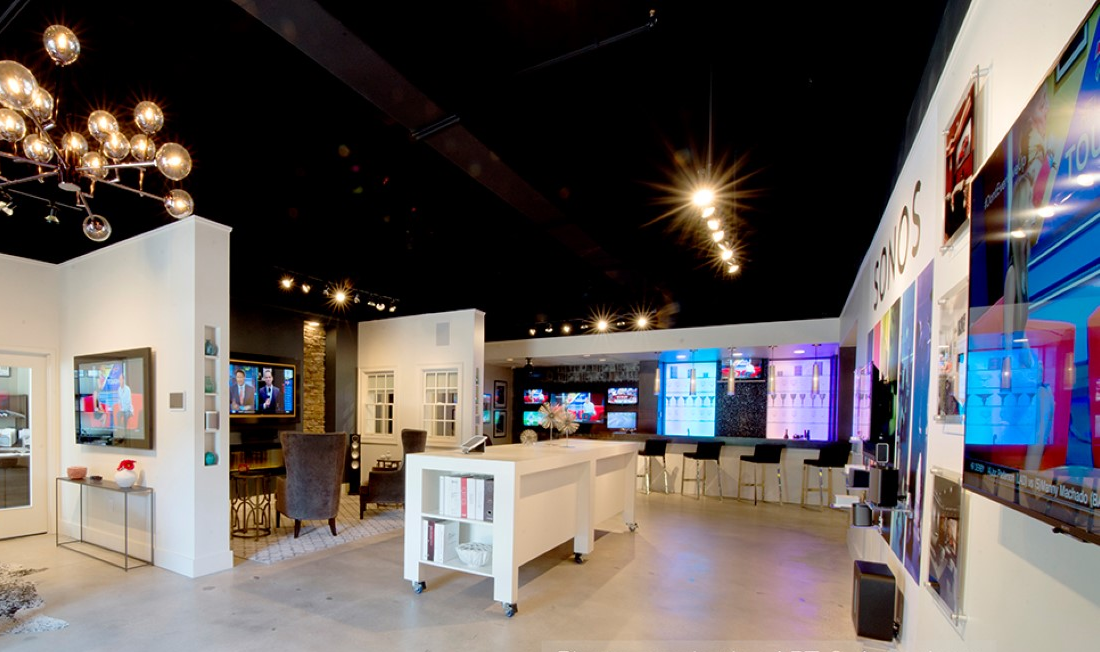 The Power of Visual Marketing
According to a survey of 177 senior marketing leaders, 65% felt that visual assets were central to the communication of their brand identity. This is hardly surprising, as studies have shown that the strategic use of color and imagery has a significant impact on how we react to visual content.
For example, it is said that we only retain around 10% of information we read, three days after viewing it. However, accompanying text with relevant imagery can increase retention by as much as 65% (HubSpot), and simply including coloured visuals makes us 80% more likely to engage with the content.
A good place to start is the installation of digital signage. This can be used to display up-to-the-minute information about products and sales, and also allows the streaming of live video and social media posts, meaning customers can 'tag' themselves in-store and see the interactions of fellow customers, subsequently creating an army of brand advocates.
A Coordinated Marketing Strategy
Eye-catching installations such as video walls can showcase what your business has to offer. Whether screens display a coordinated selection of different information, or combine to create a larger image, this is a powerful tool that never fails to grab attention.
As this is all linked into a central system, you can also broadcast information to multiple outlets simultaneously, or customise broadcasts to suit each location. This, in turn, reduces your overheads, not to mention your carbon footprint, by eliminating the need to print posters, banners and other traditional forms of signage. Cloud storage also means that disaster recovery is straightforward, as all data and content is protected.
Screens can also be used for interactive maps or catalogs, helping customers find their way around with ease, view product information, and locate items within the store. Bespoke sound systems allow you to target specific areas of the store with relevant audio output.
Flat panel speakers prevent sound bleeding from other areas, while ceiling mounted systems allow unobtrusive installation, meaning there is no need to compromise aesthetics.
Plan for the Future
Online trade may be breathing new life into the retail sector, but bricks and mortar sales are still extremely relevant. Indeed, many leading e-commerce retailers, such as Amazon, are now opening high street outlets of their own, indicating that the physical face of your organisation has never been more important.
AV technology is extremely versatile and allows users to showcase their business at its best. Furthermore, a fully-integrated AV system is easy to maintain and a great step towards future-proofing your retail environment for the physical-digital age.
Quentin Birchall is the Director of Viewpoint AV. He is passionate about technology and strives towards helping businesses reduce costs, improve efficiency and provide a competitive edge.