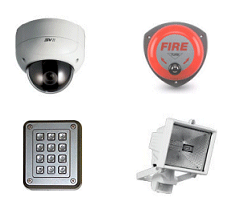 In any business you need to protect and secure your key assets.
These assets may be physical, as in buildings, fixtures and
stock or the key personnel that you need to run your business.
Secure and Protect your assets with the following services
Security and Safety Systems
Access Controls Systems
Fire Detection systems
RFID Tagging Systems
Lone Worker Protection Systems
Remote CCTV Monitoring
A professionally installed security system can help protect your assets. This can include:
Intruder Alarm system – Deter an intruder or burglar as well as reduce your insurance premiums.
CCTV System – Provide a viable deterrent and aid in crime or intruder detection.
Security Lighting – A practical and effective way to deter and prevent crime.
Access Control System
An access control security system enables you to control, monitor and restrict the movement of people,
assets or vehicles in, out and around a building or site.
We provide a wide range of products designed to meet your individual requirements.
Fire Detection Systems
Our dedicated and experienced security consultants will be happy to talk you through
the process of selecting the best fire detection system for your business.
From planning through to installation, we can provide you with all advice
based on your individual and specific requirements.
RFID Tagging Systems
We can advise you on the best Radio frequency identification (RFID) Tagging System
that would suite your business. These systems can be used in stock control
including the tracking of stock, products or even people.

Lone Worker Protection Systems
If you employ lone workers, you have the same responsibilities for their health and
Safety as for any other employees. Using a personal tracker with a 24/7 monitoring
solution will assist employers in meeting their legal responsibilities
relating to lone workers. More…
Remote CCTV Monitoring
The use of remotely monitored CCTV is getting increasingly common as many
public sectors, commercial and even domestic sites have found how effective it is in
deterring potential criminal activity, such as theft, trespassing,
shoplifting and burglary.