A very important area in training is to prepare in advance.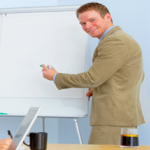 We can prepare a lesson plan to guide us through the training
and to monitor the performance.We have listed here some resources that can
be used to assist us in this area.
1. LessonPlanz –
LessonPlanz is a site which has a searchable directory
of free online lessons. It also has resources for teachers.
2. Discovery Education –
This offers a broad range of free classroom resources.
A popular feature is the free puzzle maker page.
You can create your own crossword and word search puzzles.
There are also a lot of lessons and ideas for students
3. TeacherVisionis –
There are lots of practical resources and lesson ideas for teachers.
They are dedicated to saving teachers time in the classroom.
4. SuperTeacher –
SuperTeacher have a large collection of printable grammar activities.
5. The Teacher's Corner –
This site has a load of free thematic units, lesson plans and worksheets.
There are loads of practical activities for teachers to use.
We hope you find these resources of use… the TIB Team