As the internet is becoming more and more popular around the world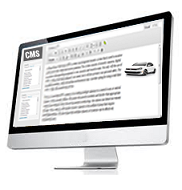 it is becoming ever more difficult for businesses to meet consumer
demands for information and updates.
People expect renewed content each and every time they
visit a website and businesses must be able to deliver
if they are to fulfil their customers' needs.
The rapid development of social media and its wide spread
global use had made it essential for businesses to keep
up with their competitors in the way that they use such
forms of media to communicate with their audience.
To stay current and competitive a business must have the most up to date web design that can handle
all of these requirements and so it goes without saying that those businesses that have older styles
of websites are far less likely to be able to deal with consumer demand for constant updates.
Smaller businesses with their smaller budgets will of course suffer the most.
How Next Generation Websites can save you money over the longer term
Although the initial expenditure may be more than a smaller business might have hoped for, an investment in a dynamic website as opposed to an older static website will allow a business to publish newer, fresher content more frequently and without the need to outsource the work to a skilled technician. Dynamic websites are easier to use and allow the owner to exert greater control over their site.
Open Source Content Management Systems
Next generation websites use open source content management systems to administrate the content on the site.
Because of the ease with which these can be used anyone can update their site with new content as much as they would like to,
which has enormous benefits for a business in being able to satisfy customer demand.
This means that extra costs can be saved because there is no need to outsource the work to a technician.
All of the updates can be handled in-house by anyone who can use basic word processing packages
as content management systems are very similar in the way they are used.
Adding content with Content Management Systems
You can add pages to your site through the content management system so that if you decide your site should have more content you can simply add on to it. You can bring together all of the social media you use and update it all from the one place through the content management system. Next generation websites allow users to share information which is important given the fact that people are using social media to make decisions about the products they intend to buy. People are being driven to purchase products based on whether their friends have recommended it through social media networks.
How Next Generation Websites can help your site rank higher
The way that a website used social media has come to be a key factor for search engines in determining the quality of a website. Next generation website are more likely to be ranked higher because of their capabilities for integrating social media, and so a switch to a next generation website can provide a business with the opportunity to appear higher in relevant search results.
It is clear to see why next generation websites are an essential consideration for smaller businesses.