Cloud computing uses the Internet to store and manage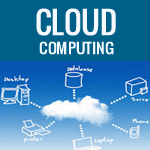 data instead of storing your documents on your device.
Social media is just one example of a cloud network,
but there are plenty of other programs available,
and if you're a job seeker, you can use these technologies
to your advantage. Check out these ways you can use
cloud computing to increase your employment chances.
Research Companies
The first step to seeking a job is to research which companies are hiring, but you
can take your research even further by diving into what the company does, what
their mission is, and why you should work for them. Wherever the company is on
the cloud, provided they have a public profile, you can learn about them.
For instance, start at their social media profiles to get a feel for the company.
From there, you can usually learn more by heading to their website or looking
through the links they share. If you need to contact the company for more
information, you can usually find their contact information on one of these cloud networks.
Hunt for Jobs
Recent job data shows that approximately 183,000 jobs were created in November 2013.
Cloud computing can help you hunt these jobs down. The most obvious place to start is
at job search websites such as Bright.com, but you can also utilize sites like LinkedIn
to track down job openings in your area. When headed on your job search,
consider these tips to help you find the right job:
Search a variety of sources.
Target keywords to your industry.
Search using different keywords for more results.
Don't limit yourself to classified ads. Use company websites, too.
Create Your Resume
Countless resume building software programs are based on the cloud, which means that you
can create your résumé, save it online, and open it on virtually any device to make revisions
or to print the document. Microsoft Word, for example, is just one of the many programs
that offer resume templates, which you can then save on your SkyDrive account.
LibreOffice is another cloud computing program that offers text and presentation options
for free to help you create your resume. You can also create a free online resume with
LinkedIn, where you can also interact with professionals in your field and search for
jobs, all while saving your information on the cloud. The great thing about these
programs is that you don't need design knowledge to create an awesome resume
since you can work with templates. All you have to do is input your information.
Design a Portfolio
Similar to how you would use Microsoft Word to design and create your resume, you can
also use cloud computing programs to design a portfolio. Choose word document programs
to design and print portfolio pages, or develop your own website to display your skills and samples.
Services like WordPress can help you create a beautifully crafted website even if you don't have
design knowledge. Other web design services, such as Portfoliobox and Dunked among many
others, are tailored toward online portfolio building and can help you design the perfect
portfolio in minutes, saving all your data online.
Network with Others
As a job seeker, you probably hear people tell you constantly how important networking is.
In reality, it's one of the best ways to land a job, even if it takes time. But you don't have
to rely on face-to-face chats and far-away conferences to begin networking.
Use cloud services to get started, such as by interacting with people in your
field via social media or getting on board with a volunteer opportunity online.
With today's cloud computing technologies, it's easy to stay in touch and
communicate, whether you're simply sticking with email or you collaborate
on projects with Google Docs or other cloud computing services.
Cloud computing isn't just a term for business men and women.
Whatever field you're in, you can utilize these technologies to help
you prepare for your future career. For more tips and advice on
increasing your employment chances, check out these tips.
Author Bio:
Abigail Clark is an up-and-coming freelance writer. She graduated from The
University of South Florida with a bachelors in marketing, minoring in journalism.
When she isn't up to her neck in coupons she is enjoying the outdoors fishing.
She loves doing reviews for technology, home products and beauty products.
If you would like her to do a review for you look her up on twitter @downtownabby17.