A trend which is gaining momentum in business today is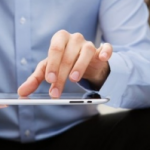 a phenomenon known as BOYD or 'Bring Your Own Device'.
This is where employees are using apps on their
own personal Smartphones to assist them during their
typical working day; while Inadvertently rendering their existing
IT infrastructure redundant and presenting new headaches for their IT
Management team, in terms of control and security of their internal network.
Background to this new phenomenon
Traditionally businesses have sought to control their internal IT environment with strict internal user
policies to ensure data security and compliance with software licensing obligations.
Equally today business managers are being warned that these same traditional control measures are
perhaps no longer relevant as the IT environment is evolving and as long as due diligence
is paid to security issues, workers should have the freedom to work across a variety of
devices that are connected to the internal office IT Infrastructure.
This trend is driven predominantly by the availability of plethora of new mobile applications
and an increasingly tech savvy workforce that are accustomed to using their Smartphones
for everyday tasks that are increasing work related.
Challenges faced by business that plan to adopt a BYOD policy
In the past, the IT department had complete control over all devices used by employees
and this therefore ensured a high level of internal network security, however a strong
BYOD internal policy is realistic if the following elements are incorporated:
The BYOD security policy should clearly outline the business position
and governance policy to help IT better manage these devices and
ensure network security is not compromised by employees who use
their own devices at work, this can be further enhanced by taking the following steps:
• By having detailed security requirements for each type of personal device that is going to connect to the internal network.
• By restricting access to specific programmes and any sensitive internal data.
• Ensuring devices use the latest antivirus software and login sessions to track activity.
• Data encryption is also an option.
Remember your employee's value convenience so ensure the correct level of control is in place
and your security policy is not overly cumbersome so as to discourage their activity. So it's all about
evaluating the risks and ensuring the correct level of security is in place.
Is BYOD a trend or is it perhaps something more?
It is yet to be seen whether or not the BYOD will be a major feature of the
future mobile workforce, the current trend suggests that this phenomenon is perhaps
here to stay and that IT Managers need to be proactive in their approach to ensure
its smooth implementation for everyone's benefit within the particular organisation.