If you're one of the lucky ones to be heading off on holidays this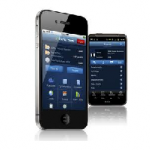 summer then we have assembled a number of apps to make your
journey through the airport a bit more comfortable and less hassle free.
Here are the apps in no particular order.

FlightPredictor is a great way to find out ahead of time if your flight is going to be delayed. Powered by FlightCaster, FlightPredictor offers the convenience of WebOS notifications so you can always know whether your flight is likely delayed.
Note that FlightPredictor only works with US domestic flights for now.
Skyscanner mobile apps is the most flexible and powerful flight search travel app in the world. Compare millions of flights from over 1000 airlines around the world in seconds; save money, save time. Skyscanner mobile apps have now been downloaded over 7m times since launching just over 12 months ago. Book your flights direct with the airline or travel agent and get the best deals.
This simple program allows you to keep you informed about departure time, departure terminal and gate, arrival time, arrival terminal and gate and the current status of each flight. You can also activate notifications for each aircraft, by which the program will automatically check for updated information about the flights, even though the program is not running. If there has been an update on a flight you will be informed about this.
The concept is nice; the interface is simple, not so accurate on my device but can't tell if it is the App or the device. Does not need to be a Car Locator, it can actually locate anything so the name itself restricts the App in a way. The Radar could also rotate using the internal compass. Now for this App to be a GREAT App, despite the name change and the rotating Radar
Wondering what the airport code for any given airport is? Airport Codes will tell you. Type in an Airport Name, a City or a Country and Airport Codes will list the matching airports (no internet connection required for looking up. If you have an internet connection, click on an airport to see its location on a map.
We hope you find these of use.
The TIB team.