Home Automation is a term used to describe the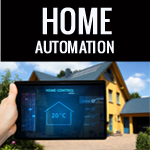 connection of various devices in your home into
a single network, its stems from a similar term
in general Building Industry called Building Automation
where large buildings would typically have a
central Building Automation System or BAS, which was essentially
an Intelligent network of electronic devices used to monitor and
control the mechanical, electronics, and lighting systems within the building.
Todays typical Home Automation system
Today with a typical home Automation system you can be in control of all
of the environmental elements in your home, like the heating system and
individual thermostats that control the temperature of each room in your house.
You can also control and monitor lighting, security systems, CCTV,
even motorized blinds, and curtains and much more. Imaging it's a cold winters evening and you are
finishing work early, no problem, access your heating system via you Smartphone and
set it to come on hour early so you arrive home to a warm house.
Types of Home Automation Systems
There are many home automation systems that are available today and
most of these home systems come with apps that are easily
controlled by mobile gadgets like the iPad.
If you are running a home and you do not require extravagant
home automation system but is just in need of an efficient system,
then below are examples of system apps that are practical
and affordable that you can use in your home.
Philips Hue – This particular system allows you to control your lighting
so you have the ability to brighten, dim and change the color of your bulbs
with a command from a Wi-Fi device. However, you have to buy
bulbs that are compatible with this system.
Nest – Nest is a home automation system that allows you to control the
thermostat of your home. This particular app learns the pattern on how
you set the thermostat thus it takes over the system by itself.
Wemo – A combination of switch, motion sensor as well as an iOS app,
Wemo allows you to control a wide variety of devices from your TV to your lighting system.
This is a very convenient home automation system that you can use especially
if you want full control of your many devices.
Home automation provides convenience and with the rising need for
people to live in efficiently smart homes, the need for
apps will be greater in the near future.