Today Workforce is becoming more Mobile
Today's workforce is becoming increasing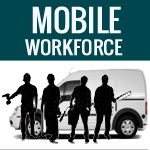 mobile hence the new term "Mobile Workforce",
they are migrating away from traditional desk jobs,
towards working on the move.
Technological changes are enabling the common worker
to work from literally anywhere. Laptops are fast giving
way to iPhones, Smartphones, Tablets and many such devices.
This Article will help you get to know more about the new type of workforce
and the advantages and disadvantages it creates for Business.
What is a Mobile Workforce
As the name suggests, mobile workforce is a workforce that is on the move.
There is no fixed office or a desk that is used by the employee.
Instead of sitting at a desk and working on a desktop, the employee works from
anywhere; from home, hotels, trains, buses, parks, on his or her
laptop or mobile device using internet connectivity.
Advantages of a Mobile Workforce
There are advantages of this new way of working –
Communication with the team and related to work is possible from anywhere.
As a result, the workers are available even after traditional office hours.
With video conferencing facilities, meetings can be held across continents
from the cozy confines of your home.
Long boring meetings can be done away with.
A paperless office is now almost a reality with everything, including signatures
and endorsements happening through digital media.
For employees who need flexible hours or need to spend
more time at home, work from home helps them continue
work and contribute to the organization.
Balance between work and home is gaining more and
more importance in today's world. Mobile working helps you achieve just that.
Companies who have accepted a "mobile" way of working have found
that they have a higher possibility of retaining talent.
On a lighter note, we do not have to bother about "what to wear" before we head to work.
Disadvantages of a Mobile Workforce
With the positives come the negatives.
With even hotels, airports and restaurants offering free Wi-Fi or internet
connectivity at nominal rates, there is no break from work. Work can be
carried everywhere including on holidays.
This can lead to an increase in stress levels.
There is no "Off" time as such and this can impact your exercise
time, family time and ultimately your health and personal relationships.
From a company's perspective, there is an issue with security of data.
The more data travels the more it is prone to being hacked into and used
for malpractices. So, if employees work from anywhere, data travels anywhere and this can be an issue.
The productivity of employees may be hit. Unlike in an office space, the possibility
of distractions increases away from office, say at home
or in hotels or trains. So, though an employee may put in more hours,
work done may still be less. This is not a good situation where productivity plays a key role.
Barriers to Mobility
Though mobility and connectivity are gaining importance
there are a few barriers that need to be considered –
Not all places have the same connectivity
Bandwidth and download speeds are still an issue in some countries.
Some applications used in-house by organizations may not be available
over the Internet and so may not be accessible from outside the office.
Though Virtual Private Networks (VPNs) may help to break this barrier, albeit at a cost.
Team dynamics has changed and traditional management
techniques do not work with this kind of workforce.
The way organizations and people work needs to change.
Conclusion
There are some traditional jobs that need to be done as a team and in a given
workspace, but for all the others, where there is no such restriction, mobile
offices and a mobile workforce seems to be the way ahead and as employers
or employees, we need to prepare for the same.