Video conferencing is a very convenient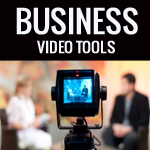 way to conduct meetings, especially when
your colleagues or clients reside outside
the country.
We have collected some best video conferencing
tools for you, listed in no particular order:-
1: Snapyap: – Create your personal video conference room
and invite anyone you want, they just need to have snapyap account.
This online voice conferencing tool can be used for any one-one audio or video call.
2: iVisit:- With this tool,
you can transmit live video/audio with up to 8 people at the same time.
You can also track mobile users with the integrated GPS system.
3: Vawkr: – Vawkr allows you to get your own video chat room and talk with anyone. The service is completely web-based and free to use.
4: Mega Meeting – This web based video conferencing software
requires no downloading. Up to 16 individuals can be seen at the same time.
5: Oovoo: – Communicate with up to six people, through text-chat
and video-audio conference. You can also record video messages
and share up to 20 files at once to as many contacts as you want.
6: Vsee: – Vsee allows you to talk with multiple people on your computer.
You can remotely edit the documents, transfer file.
You can also record and share videos.
7: Palbee: – With Palbee, you can set up video meetings with
up to 10 people and upload PowerPoint presentations.
8: Tokbox: – Create your own video room, invite a friend and have
a video conference with them. A simple registration is required for tokbox.
We hope you find these tools of value
Thanks
The TIB Team