While building an eCommerce site, the primary focus should
be on optimizing it to suit the specific business objectives.
It is generally a time taking process, especially for large online stores.
However, there are certain powerful eCommerce platforms that offer a
wide range of free/paid apps that are designed to extend the functionality of
an eCommerce store and automate business processes for growth and better ROI.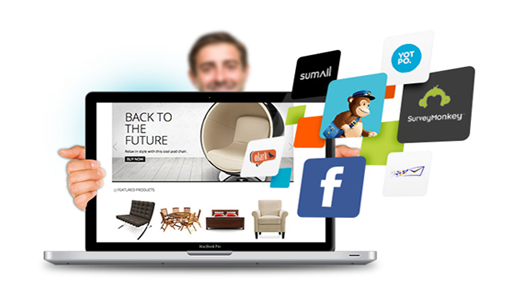 They are easy to use and provide great support.
Let the drums roll. Here we have a list of top 7 free apps
for your online store that can save both your time and resource.
Yotpo:
A free product reviews solution, Yotpo is effective in increasing your sales. Apart from generating tons of reviews, this eCommerce app is deeply integrated with social media; thus, making it easy for you to share the reviews on your official Twitter and Facebook accounts. This also means all reviews are authentic and trustworthy. Besides, this app makes review writing a joy for your customers. It even reminds your happy customers to write a review for the product they purchased.
Its specifications include:
Easy installation within 5 minutes
Customized features to fit your eCommerce store perfectly
SEO Minisite to take advantage of your user generated content for driving more organic traffic
It sends automated emails to customers encouraging them to write product reviews.
You can moderate the reviews; publish only what you want to
Trustworthy reviews – There is a badge next to each review, showing that they come from a verified buyer.
You can add coupons to encourage buyers for writing reviews and sharing them on social networks
Analytics to determine your ROI
Yotpo features a neat design and you can find more than 500 reviews on app store.
Justuno
Justuno is a powerful social engagement tool that help your eCommerce store increase sales conversions. This code-free design tool started over 3 year back to create onsite promotional offer. Using this app you can target potential customers to share real time offers and incentives on Facebook, Twitter and Instagram. A number of eCommerce stores are also using this app to drive more email submissions.
An innovative tool, Justuno offers easy-to-manage admin dashboard. The best thing about this app is that it provides near instant ROI.
Features of Justuno:
One-click installation
Build email subscription list & email integrations
Powerful social engagement
Exit intent offers
Auto pop promotional offers
Responsive design and more
The app leverage user feedback and market trends to update its tools on a regular basis.
AddShoppers Social Analytics Platform
This is one of the must-have free apps for online stores. AddShoppers Social Analytics platform allows you to access social commerce apps and SKU-level social insights to track ROI of social sharing and more. You can even identify the biggest influencers in your social network, using this app. What more? With AddShoppers you can reward sharing with coupons; thus, increasing shares and social engagement and at the same time reducing the issue of shopping cart abandonment.
Key features:
Simple and easy installation
Facebook buttons
SKU level social insights
API access
Identify biggest influencers
MailChimp
Transactional emails are gaining more importance for eCommerce stores. And sending email newsletters, welcome emails, invoices and shipping notifications to your customers is an easy task with MailChimp. Besides, this app allows you to manage your subscriber lists, sync marketing messages with popular social networks and track campaign performance as well.
What it offers:
Full featured API
A/B split testing
AutoConnect templates & autoresponders
Social sharing & stats
RSS to Email
Campaign archives
Merge tags
List management
With MailChimp Mobile, you can edit your marketing content using mobile-specific styles
as well as preview and test the emails before sending them out.
Refund Retriever – UPS & FedEx Auditing
eCommerce stores that ship with FedEx and UPS will find Refund Retriever most helpful. Offered by a small, full service parcel and freight auditing company, this app will audit all your packages for general billing mistakes and lateness. Better yet, it will help you get full refunds for any late delivered package. In addition, Refund Retriever provides insight about your shipping habits and discounts.
The app helps you with:
Getting refunds for late delivered packages
Incorrect surcharges
False address corrections
Save money by avoiding duplicate charges
Reports and analytics (third-party billing)
Small parcel benchmarking
Some of the features are available to free members; however, the company will charge you a performance based fee for certain features and services.
ViralSweep
Sweepstakes are common for eCommerce businesses and the easiest way to create and run one within minutes is through ViralSweep. This free app allows you to collect unlimited entries and build unlimited sweepstakes. You even have access to ViralSweep's official sweepstakes rules template. The paid version provides real-time analytics.
Key features:
Embed sweepstakes on your online store
Collect unlimited email address
Social sharing
Sweepstakes official rules template
Export data into a CSV file
Real-time analytics
Award bonus entries for referrals, sharing and other social activities
Support through email and phone
In addition, ViralSweep allows mobile optimization to maximize your reach.
Bigcommerce SocialShop
This is a free Facebook application used by over 10,000 businesses to sell their products via Facebook Store. Bigcommerce SocialShop allows your Facebook fans to browse products, add items to shopping cart, purchase and make orders, manage orders, write reviews, redeem gift certificates and more without ever leaving their Facebook account.
What to expect:
Easy integration
Customized banner graphic
Direct purchasing
Showcase featured products and new arrivals
Conclusion:
Choosing the right eCommerce app for your online store is a serious business. It will directly impact your ROI, conversion rates and revenues. It can either make your customers satisfied and enthusiastic or leave them frustrated and annoyed. Take your time to select the right kind of app that suits your specific business objectives. The free trials are a good place to begin with and do take advantage of the available support avenues. This will give you a best possible reflection of what to expect from their upgraded, paid versions.
Author Bio: Simon Horton is the Founder of ShopIntegrator.com, a Hosted Shopping Cart Store Add-In. His years of experience has helped him setting up this platform. Feel free to reach him out on Google+.