As more and more businesses use the Internet
and mobile computing technology for day
to day business we now see a growth of
online document and image management requirements.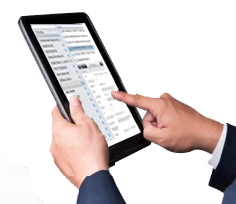 To meet these various document and image
management needs we have listed 5 business
apps that can assist in this process.
Selectica CLM
Selecta Contract Lifecycle Management (CLM) is a cloud based app that allows you create manage and store contracts in one central location. You can then search this archive of contacts in the future. The aim is to streamline the whole contract creation process from beginning to end and support the storage and searching of relevant contract details for future use.
Image Relay
Image Relay is a hosted digital asset management (DAM) application that provides your company or organization with a solution to securely host, manage and access your digital assets. You can upload, organise and share key all your digital media. You can also brand your portal and share with customers and the public.
EditionGuard
EditionGuard is an affordable hosted eBook DRM (Digital Rights Management) solution for ePub and PDF eBooks. EditionGuard uses the Adobe Content Server DRM system to deliver PDF eBooks and ePublications to over 50 types of apps and particular eBook readers. It is a fully scalable solution ideal for self publishers and eBook selling.
isoTracker
A cloud-based QMS (quality management software) system that offers a comprehensive set of quality management software applications. The system includes document control, complaints management, audits, non-conformance reporting, CAPA and escalation. The apps is Ideal for managing ISO 9001 processes and is easy to set-up and use.
Docassist
Docasist's on-demand, fully integrated suite of content, document and workflow management
tools provide organizations with the benefits of business process automation options and
features.
We hope you find these applications of value
Thanks
The TIB Team