Leverage social media websites such as LinkedIn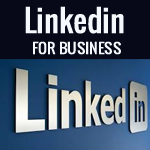 Smart marketers are taking advantage of the social media
sites to attract and retain huge customer-base. However,
some companies do not yet know how to leverage social media
sites such as LinkedIn to grow their online business.
LinkedIn is one of the social media networking sites
that can help you gain high exposure and build
your business massively.
LinkedIn has grown quickly
LinkedIn has grown so fast from its startup stage to nearly 34 million
registered members in United States alone, and to more than eighty-million members
right across the globe. LinkedIn has included top features that would enable you to
enhance your business networking opportunities.
Looking to get started on LinkedIn?
Here are top tips that guide you in the process.
1: Create a business profile
The first and easy thing to do is to create your own personal profile.
In addition to the initial company profile tools integrated on LinkedIn to
help create solid company profile, LinkedIn has also included several
other powerful features so that users can extensively find out more about your
company and its offerings. For instance, with the new tools and features,
you can build your profile in a way that users can research your online
statistics such as educational qualifications and others.Also, company profile is
advantageous since it will ultimately reflect on your company's
natural search engine results.Usually, other users would be directed to company profile section.
So, they are likely to follow your company.
2: Get users engaged with thought leadership
Since you are an authority in your field, you must already be conversant with
engaging partners, colleagues, friends and people around you.
Employ that same strategy online so that you can capture the attention of so many people.
Provide up-dated pieces of information that are relevant – LinkedIn Groups would
enable you to accomplish this. There are countless topics to explore in LinkedIn
Groups, and millions of people are sharing stories and asking and answering
questions there. Take advantage of this feature and capture the attention of a lot many.
4: Look out for existing users to connect with
After building your LinkedIn business profile, get connected to other users and also include
new members to your profile. LinkedIn Outlook Toolbar is among the most efficient tools
that can help you include new contacts automatically. The tool scans your Outlook email client
and your inboxes as well as folders for any likely LinkedIn connections. Thereafter, the tool
provides you with the option to connect with the users found. It's entirely a free toolbar that
you can leverage and start connecting to millions of other LinkedIn users.Also, you can promote
your participation in LinkedIn by taking advantage of the Twitter connection within your profile
(your individual profile). This way, you would be able to bring your Twitter followers to join you at LinkedIn.
5: Use the LinkedIn Services tab to promote your company's product
Services tab is one of the newest tools within the profile. Using this tool, you can promote
your products or services. You would need to complete a questionnaire to this effect, for each item.
You are provided with an option of uploading a matching image. The tool also makes it possible
for users within your network to share and also recommend your offerings to others.
Use LinkedIn to Build your online Business
Take advantage of LinkedIn today
and grow your business massively