Business-to-Business Sales
Even when you're a great businessperson, sales might not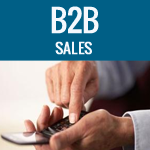 always be your strong point. Sure, it sounds easy in theory,
but when it comes to actually securing a sale, many people
can be intimidated by the process because they're not sure
of themselves or their techniques.
They see others in action that seem like naturals at
it and wonder why they just aren't getting the same results.
Negotiating with other businesses can be particularly daunting
if you're not equipped with the proper negotiation skills to
get the job done, but it doesn't have to be that way.
With a little practice, your business-to-business negotiations
can go smoothly, get you the best deal,
and show you how they are the key to success.
Become a Better Salesperson
Often, many businesses might not be completely in tune with the roles of their sales team.
The expectations can get convoluted, which disrupts the progress of solidifying deals.
Remember that in business-to-business deals, you are not dealing with the typical
customer population, but another business that is providing a service to you.
You aren't there to make sure that the customer is always right and satisfied,
which is a common confusion in B2B negotiations. The job of your sales force is to
get the best deal with the best profit margins. They cannot be afraid to walk away
from the deal if it's not in the best interest of the company, so make sure your
team knows that, when negotiating, it's not about making the other
business feel comfortable. It's about getting the best deal.
Negotiate a Price
Remember how it's the sales team's job to get the best deal with the best profit margins?
This ties in with the principle that a price should always be negotiated.
Many salespeople are tempted to fall back on price when negotiating as an
excuse for not fully being able to negotiate. It's akin to taking the easy
way out when a team kowtows to another business and fails to work out a deal
because the other business has laid out a price.
Never accept that first offer. It can always be negotiated, and if it's not, then it's time to move on.
Accepting a first offer will almost always leave the other business at an advantage and may
damage your profit margin. Encourage your sales team to always make counter
offers and not be afraid of leaving a deal still on the table.
Train Your Team
One of the most common misconceptions about business negotiation is
that good negotiators are born, not made. This couldn't be further
from the truth. The reality is that anyone can become a great negotiator with
a little training and education. Make it a point to do periodic training activities with your
team so that they can brush up on their negotiation skills.
Role-playing scenarios can help your team think critically to figure out what to do during a
real-life negotiation process. Additionally, you can have your
team read books and visit websites on how to negotiate, and then
discuss what they've learned at weekly or monthly meetings.
These Sales Tips are critical
These tips are critical for stepping up your team's negotiating prowess.
A great sales team is a very powerful thing to have, but remember that they won't
transition into one overnight. It takes work, education, and practice to get them there,
but the end results will be worth it. You're equipping your sales force with a valuable skill,
and you'll see increased profit margins and better business deals because of it.