Digital signage is something many of us will have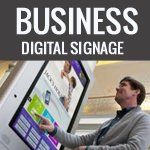 come across in our daily lives, even when we may not realise it.
In fact, many businesses are still unaware of what the technology
is and how it can benefit them.
Today, we are going to provide an introduction to digital
signage by examining exactly what it is and
how it can benefit your business.
What is digital signage?
It is a form of new media involving the use of digital displays as a marketing
tool for advertising a business' goods and customer relations.
Examples would be the advertisements found on Times Square, the kiosks
in malls that help customers to find shops are other utilities, and for
grabbing people's attention on the high-street from shop windows.
It is becoming prevalent in a range of industries, including:
Retail for promoting items and special offers
Museums for enhancing the visitor experience
Transportation hubs for informing passengers
They can also be found within hotels, restaurants, banks and many other industries.
How can it benefit business?
Reach: Grabbing the attention of customers is becoming more difficult.
Novel methods of communication and providing a targeted message,
both achievable through digital signage, are strong influences on purchasing decisions.
Fresh content: Providing fresh content is essential for good user experience and promoting return visitors.
The content on digital displays can be updated quickly & easily and correspond with latest offers or seasonal features.
Upsell: The ability to upsell customers is an important aspect of business and can easily be
implemented when using digital signage. If a customer is looking at or searching for a specific
product, the ability to upsell them with similar products or add value with related products
that increase return on investment is vital.
Improve customer experience: A happy customer is more likely to return to your store
and continue to spend on your brand. Providing knowledge will show that you care and create lasting relationships.
Measure results: Every business tool needs to be considered in terms of its return on investment.
Digital signage makes this possible through the ability to analyse performance and fine tune accordingly.
Is it right for your business?
Digital signage needs to be serving a purpose in your business for it to be considered
a worthwhile investment. To decide if the technology is right for your business,
take the time to answer the following questions:
Do you feel that your business could better educate visitors and
potential customers about what you have to offer?
Are other marketing efforts such as posters and flyers not working for your brand?
Does it fit in with your company's goals?
Does the cost of the technology fit within your budget?
(Although this would be a one-time investment as updating
of the material could be done in-house instantly)
Would you have someone to keep the content regularly updated for freshness and in charge of overall presentation?
How big a business environment would it operate within? If the space is large you may need multiple screens.

Author Bio
This is a guest article provided by Rob Anders from AndersDX where you
can learn more about the capabilities of digital signage.