A CRM (Customer Relationship Management) tool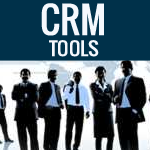 will help you manage your customers more effectively.
We have assembled a list of best CRM tools for your Business.
Here they are in no particular order:
1: Salesforce: – Salesforce is one of the most widely used CRM tools which
provide a lot of customization options. You can know your customers, grow
your business and manage your deals in a more structured way.
2: Nimble: – Nimble helps you to send messages, add events, edit or download the
contact profile directly from the contact's profile window.
It focuses on social media and proves to be very efficient in this field.
3: Infusionsoft: – Infusionsoft is dedicated to provide CRM platform to small and
medium sized business. This all-in-one sales and marketing software fulfils the motive
of being organized, attract more customers and grow sales.
4: Rapportive: – Rapportive looks for information on social media sites LinkedIn,
Twitter, etc about the person you are emailing. This can be considered as an add-on for Gmail.
5: WORKetc: – This tool is preferable for persons who are involved in project management.
It provides a software platform to allow a small business to manage its entire operation.
6: CRMAdvocate: – This tool is an outstanding resource for learning. It aimed at
educating sales and marketing teams on best practices in the business that helps you to expand your CRM systems.
7: Solve360:- This tool is a blend of Project management and CRM. If your work requires
constant communication updates with clients and team members, this tools is worth looking at.
8: SugerCRM: – Manage every aspect of relationships and communications with your customers.
This is one of the popular CRM used by biggest companies in the world.
We hope you find these tools of value
Thanks
The TIB Team