Perhaps you are a manager who finds it difficult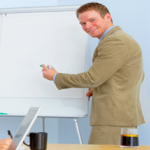 to meet deadlines, frequently faced with hard-to-
attain increasing targets, and have non-
creative staff; then it is likely that the
problem is in you and not in your staff or anyone else.
Ways of improving your management skills
There are very efficient ways by which you can improve your
managerial skills and become a better manager:
Learn how to communicate effectively with your staff or
subordinates. This way, they will clearly know exactly what you require from
them at each point in time, and will also be clear on what to expect from you.
You will also get to know the most effective and
suitable communication method for a given situation, whether it is email,
phone call, or a face to face contact.
You will work towards making your staff more creative or productive.
What is the best way to achieve it? Is it by coercion, giving orders, or
by denying them their privileges? Or are you going to look for
better ways to get them into productive mode?
Perhaps you have productive staff, but what about their efficiency level?
Maybe you can achieve productiveness in your workers by
eliminating red tape, including other things that tend to
retard their productive rate.
Have you thought about time management enhancements?
How is each day spent, can you ascertain a day that is well spent?
Is it necessary to be physically present in those meetings by travelling?
Is it necessary to read mails as soon as they get to your inbox?
What portion of your workload can you practically delegate?
How can you rate your people skills? Are you a manager who knows how to
handle criticism? What is the conception of your workers about you?
How well and regular do you communicate with the various departments,
clients, or suppliers to help hasten processes and
make things less burdensome to everyone concerned?
To what extent do you value staff training? Is it important for
your workers to be well acquainted with the job details prior to commencing?
What they should do with every change of trend in the industry and
applicable technologies? How do you take advantage of them?
What is the level of your openness to new ideas and advice from
your subordinates? Did you venture to implement any plan, and
what ways can you make such plans effective? Have you thought about
practically coming down to the level of your staff in order to
find out their work challenges by working with them?
How well can you identify and handle staff issues such as being late to work?
Is lateness of your staff associated with issues at home, or
is it a mere odd habit? How would you handle those who cannot just get on?
Are you taking the best advantage of applicable technologies?
How well do you use the technologies for achieving effective communication
with people in different countries, or in connecting with
different offices within your organization?
How far can you employ technology in managing or
automating the production line? Are your field-based staff equipped with
the applicable technologies such as smart-phones and laptops?
Take a professional management training course
The answer to all these issues lies in taking a professional management training course.
Invest in a management training course today and learn a wide range of skills.
It doesn't matter how long you have occupied a managerial position,
you will learn new skills that will help improve your managerial skills greatly, and
help you become a better manager.