These image tools make life a lot more fun and provide you with information quickly.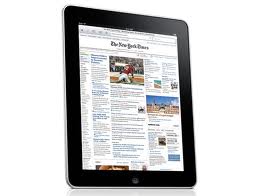 Read the news, edit and send images out to your friends, clients, and back to your office quickly.
As a kid, if you drew pictures using a wand on
the magnetic Wooly Willy, you'll enjoy doodling
with some of these apps for grownups.
The Guardian Eyewitness (13.4 MB):   View the Guardian newspaper on line to see the paper's series of daily exclusive photographs in its center spread.  This app's Pro tip to save favorite photos makes it easy to share photos on Facebook, Twitter, or email, with photo captions also.
Adobe Photoshop Express (7.2 MB):   The Adobe Photoshop Express app lets you edit photos on your iPad with ease.  You can adjust exposure, use black or white or contrast, tint, and saturation, and add borders or artistic effects, rotate, and touch to crop, then upload or save your photos to Photoshop.com or Facebook.
Pixlr-o-matic (12.7 MB):   Select a photo from your library or snap a photo from the iPad camera and in a few easy steps, you can add special effects to your photo. Choose a lighting effect, a color filter, and a good frame from all the choices included then share your fabulous photo with friends and don't forget to save them.
Absolute Vintage Studio Lite (26.4 MB):   Have some fun with the Absolute Vintage Studio Lite by changing the appearance of your face with the fun features in this app.  Upload or take a picture of yourself on your iPad, then make yourself look like a person from the 1970's or 1940's by adding a hat, eyeglasses, or a beard.  Share your creations through social networks, or emails.  It's easy and quick.
Doodle Buddy (12.9 MB):   The Doodle Buddy app is fun and full of features, letting you pick a color, select a size you like or a pen color, add text, doodles, stamps, or other backgrounds to your photos.  Change your mind and with a shake to your iPad it's cleared.
Enjoy ! for the TIB team…