Once again, Apple creates a useful group of apps for your iPad,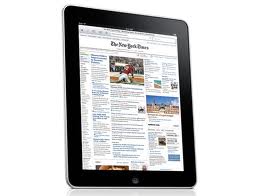 making life on the run easier.
These eleven apps help you maintain
contact with the office, clients, friends,
and family via instant messaging or
social networking.
Valuable app features enable you to find
information, save valuable contacts
and references, keep up with breaking
news and financial information,
and see the weather report for your destination.

imo instant messenger (1.6 MB):   The imo instant messenger allows you to keep in touch with your family and friends by simply signing in to your existing IM accounts; you don't have to create a new account with imo.   MSN, ICQ, /AIM, Myspace, Facebook, Google Talk, Jabber, Skype, Yahoo, and Chat are the IM accounts supported.
Skype for iPad  (16.3 MB):   The Skype for iPad app allows you to send instant messages via WiFi network or 3G or place video or voice calls via Skype-to-Skype.  You need to pay to unlock some features such as reasonably priced calls to mobiles or landlines
Terra Browser (4.2 MB):    Loaded with features, the Terra Browser has text search, passcode protection, full-screen browsing, incognito mode, ability to save web pages for offline reading, Twitter, unlimited tabs, bookmarks, Readitlater, Facebook, integration with Mail Link and more. This web browser app is a great alternative.
Dolphin Browser HD  (4.6 MB):   The Dolphin Browser HD app is an intelligent web browser with great features like find on page, side bars, bookmarks, Webzine, download management, speed dials, desktop and private modes, and gestures.  Full-screen and tabbed browsing are helpful.
Zite Personalized Magazine (1.4 MB):   The Zite Personalized Magazine app automatically works as you read, view and use content.  It's a great app for your iPad, allowing you to create your personalized magazine with the sites you like–Film & TV, Music, Arts & Culture, World News Finance or others from your favorite mainstream publications.
Pulse News (4.5 MB):   The Pulse News app allows you to share stories with your friends through email, Twitter, or Facebook.  You can add stories to your Pulse.me account, making them accessible on the Web. Browse stories by sliding visual mosaics and tap one to read in full plus manage your news sources in tabbed pages.
Read It Later Free (5.7 MB):   Use Read It Later Free to bookmark an article from your PC or mobile to your own read it later list.  The app downloads all articles in the list to your iPad for offline reading. Now you can save and read all those articles you find on your browser but are too busy to read at that moment. The paid version offers advanced features.
Google Search (8.7 MB):   The Google Search app lets you instantly receive suggestions and results from Web searches as you take pictures with your device camera, type, or talk into your iPad. The apps tab makes access to other Google products easier.
Google Earth (13.6 MB):   The Google Earth app lets you search for businesses, cities, and places yielding other useful information and millions of geo- located photos. Tap the Location Icon and in a few seconds, it goes from space to your current location. This app takes you on a world tour with a swipe of your finger.
The Weather Channel Max for iPad (7.8 MB):   The Weather Channel Max for iPad app gives you in-depth weather forecasts for 24 hours up to ten days. You can access innovative weather maps, a full video library, and real-time Twitter feeds from popular TWC Tweeters, as well as active weather alerts.
Weather HD Free (115 MB):   The Weather HD Free app lets you choose locations around the world to monitor for current and hourly forecasts. Information is available in high definition videos, but they are big files to download and take a lot of space on your device.  The free version includes two preset cities.