Gartner predicts that consumer vehicles will represent one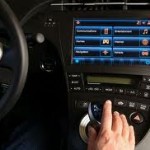 of the fastest-growing markets for computer technology
and Internet content in the next two years.
The term connected car is a relatively new term used to
describe a new generation of Vehicles/Cars that are
essentially connected to the Internet via
high speed wireless networks.
LTE (Long Term Evolution)
Carriers in the US are touting a faster 4th generation wireless network called LTE,
this network is designed to provide speeds of up to 10 times greater than existing 3G Networks,
this will power mobile devices such as Smartphones, and wireless hotspots.
This new network is opening new opportunities in the area of mobile internet.
Here are some interesting recent observations in this area
Verizon claims to own the largest LTE network in the USA and that their network will be have complete nationwide coverage by 2013, they recently purchased Hughes Telematics which is a large (TSP) Telematics Service Provider. Much the way an ISP gets your home or business connected to the Internet, a TSP provides connectivity to a car.
Related articles:
Verizon leaps into connected car biz with Hughes buy: http://su.pr/436GoJ
Verizon Bets on Connected Car: http://su.pr/5Bkn8q
Intel the world's leading semiconductor company
Intel has recently announced an investment of $100 million in this area.
According to Intel's Brian Wolf, managing director of Intel Capital, the company will use the fund to invest in firms that develop in-car technology that seamlessly integrate with other devices, such as Smartphones etc and of course these devices will need additional semiconductors.
Related articles:
Intel Announces $100M Connected Car Fund http://su.pr/18yH9S
Microsoft focuses more with its Connected Car team
Microsoft still leads the field when it comes to in car technology systems.
Recent news from Microsoft Connected Car team suggests they are looking to integrate a range of their new applications coupled with voice recognition technology into the next-generation of Connected Cars.
In a recent interview, Ford Sync design engineer Ryan Dauzet revealed that the company's 2013 models will get a significant performance upgrade when it comes to their digital connectivity options.
Related articles:
Microsoft Connected Car plans include Kinect, WP8 and the cloud http://su.pr/22Yw6y
Apple enters the array
Last week, Apple announced their contribution within this space, with their new Siri's new "Eyes Free" solution, this new voice recognition system uses a tethering system that allows the driver chat with the Siri through their car speakers via a simple push button on their vehicle steering wheel. They can ask siri to perform certain tasks
and there is a wide variety of apps already available within this space.

Related article:
Apple Makes a Play to Lead the Connected Vehicle Revolution: http://su.pr/8WlCxD

The main Global Car manufactures and the direction they are taking.
Currently the auto industry appears to be divided into two main groups:
The first group is called the Forum for Connected Cars and includes BMW, Honda, Hyundai, Kia and Toyota. They support the concept of the LTE Connected Car this is where the manufacturer essentially embeds the hardware in the car, this then turns the car into a mobile Wi-Fi hotspot and provides a wide range of facilities for the driver and occupants via this service.
Related articles:
Verizon Joins With Leading Global Auto Companies To Establish 4G Venture Forum for Connected Cars : http://su.pr/2Hgbdr
Then there is the second approach which uses a tethering approach, whereby the driver's Smartphone is paired up with the cars system via Bluetooth and as the Smartphone is already a connected network device there is no need to embed any hardware in the car.
This is been taken primarily by U.S. car makers such as Ford, General Motors, and Chrysler while they appear satisfied to embed devices for emergency purposes and vehicle to vehicle communications but would rather if the user use their own personal device or Smartphone for infotainment, ( combining 'information' with 'entertainment ) services.
Related articles:
Ford Reveals Infotainment Improvements for 2013 Models http://su.pr/1Yy0ZN
This new area is fast evolving as many varying approaches are been taken and alliances formed,
only time will tell as to what system and service will become the standard and if the connected car
becomes an estab