Health news seems to dominate our televisions and radios these days.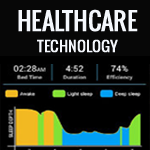 There always seems to be a new diet or medication that people want
you to try and these entire advertisements can leave you feeling confused.
To keep your head from spinning, we've come up with a list of some
great health apps that are perfect for busy executives just like you.
There is a great FREE app that will help you to keep track of your diabetes,
called Diabetes UK Tracker app. The app is designed by a team of specialists
along with people that have diabetes, in order to help you effectively log,
track, and manage your diabetes. This fantastic app is available
for Apple and Android products.
Calorie Counter PRO by MyNetDiary is one of the easiest
apps to use when you want to lose weight. It is a food diary and calorie counter all in one,
with its own built-in barcode scanner to make shopping and tracking even easier.
With over 500,000 foods conveniently at your fingertips, your weight loss goals
will be even more attainable. MyNetDiary is available on your iPhone and
Android devices, but there is a relatively small fee involved.
Premature Ejaculation
Premature ejaculation (PE) is a common male health concern that affects many men.
PE is a condition where men have an orgasm shortly after starting intercourse or even
before it begins. In order to help men worldwide, there is a great app called Premature
Ejaculation Cure. This app is available on your Apple products and it will show you
various techniques that can be used at home to help with your PE. But if you are
looking for a gizmo that is a more widely regarded solution for PE,
you might want to check out Prolong.
If you wake up most mornings still feeling groggy and tired, then this app is perfect.
The award-winning Sleep Time Alarm Clock app uses the iPhone's accelerometer
(the sensor that measures the devices motion and orientation) to monitor your
movements while you sleep. This amazing app can recognize your sleep cycles
and wake you up at the perfect moment according to your body clock.
There is a small fee involved for this app, but it is totally worth every penny!
Overall Health
Manage your health with this magnificent Patients Know Best app.
With this app, you can view your health records, control access to
your health records, make online consultations with your doctor,
keep track of medical notes, and ask questions about test results.
Patients Know Best is integrated into the NHS secure network
and many health care centres will pay for this app on your behalf.
Make technology work for you by using any one of these wonderful apps.
It may take a few tries to find the right app for you or to figure out how
the app even works, but it is so rewarding and a great time-saving solution.
Use your Smartphone or tablet to keep you happy and healthy this new year.
Help is truly at your fingertips!