With internet powered smartphones now becoming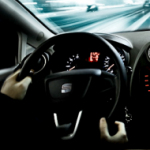 more of a necessity when it comes to daily business,
nobody wants to give up being connected even when they get in the car.
An Introduction to Siri
'Siri' is a voice controlled virtual assistant created by Apple to assist drivers
in performing certain functions on their mobile devices
using hands free, and eyes free, so that drivers can continue to drive
safely and without distraction.
What can the virtual assistant actually do?
There are of course a number of other possibilities for 'Siri' if the technology is rolled out.
The tasks that Siri can carry out are not limited to making phone calls and accessing the internet.
The assistant can set alarms and provide you with reminders about events that are happening.
Your car, whilst connected, becomes your personal organiser as well as your mode of transportation.
When can we expect to see the technology in cars?
The integration of Siri in a wide range of vehicles is a result of a partnership between
Apple and the vehicle automaker giant, General Motors. Not much is being said about
what is in the pipeline, but what we do know is that we won't have to wait too long to find out.
No deadlines have been given but we can expect to find out which automakers have signed up
and when the first cars will be available fairly shortly.
Which cars will be incorporating the technology?
Most car companies are not saying whether they have been approached to make
any deals with Apple or whether any discussions have been had.
Whilst some companies are being rather more forthcoming with their
plans for the future, firms such as Chrysler are being unsurprisingly quiet about the prospects.
Regardless of whether the leaders of the automotive industry are talking or nor,
Siri is soon to arrive. It is thought that some car companies will be releasing
vehicles with Siri technology over the next 12 months.
How long until everyone is using Siri?
Once the technology is integrated we can expect further developments and innovations
as Apple very rarely stand still for too long. The possibilities for the virtual assistant
and all of the tasks it might perform are seemingly endless.
Although it is likely that Siri will appear in cars at the higher end of
the price scale at first, it is thought that the technology will begin to appear
in most mid-range models soon afterwards, given its potential to perform certain safety features.