Software as a Service
Software as a Service, commonly known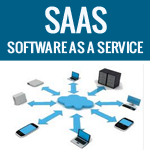 as SaaS is a model in which software is a
provided for companies and businesses to
use over the cloud.
Software as a service is provided by Application
Service Providers, also called ASPs.
Though cloud computing also offers Infrastructure as a Service,
Platform as a Service, etc, SaaS is the most common and most used service.
With new development technologies and architectures like web services, service-oriented
architecture gaining prominence, usage of SaaS is on the rise. The software application
and the database or data is hosted on the cloud. This can then be accessed by subscribers
using web browsers and other thin clients. Nowadays SaaS forms a large part of deployment
strategy for businesses and especially small and medium scale businesses who do not want
to invest in too much of software of their own.
SaaS is available in many forms. Businesses can directly use existing and available
business applications. Businesses dealing with product development and
management can use development tools over the cloud.
Advantages of using SaaS –
When businesses use Software as a Service, they do not pay for the licensing
or the hosting of the Software. This makes it cost effective too,
especially for small and medium size businesses.
Hardware acquisition and maintenance required for servers to host the application
is also managed by the service vendors that provide SaaS and this makes it easier for
the business owner to concentrate on other important matters. Reliability, security
and performance of the software are also dealt with by the SaaS vendor.
Security updates, patches, newer releases are also a troublesome factor for small
business owners as resources need to be allocated for these activities. But, in the
SaaS model, these activities are carried out by the SaaS provider. The business
owners and subscribers then get the latest software without investing in these additional activities.
As SaaS is a service that is provided by the vendor (service provider), customer service
is important and stringent norms are followed to ensure the best service to the subscribers.
Payment for SaaS is usually via a subscription basis paid either monthly or yearly or based on similar schemes.
This enables the subscriber to monitor expenses and ensure that he or she can choose the best
possible solution to ensure the best possible return on investment.
The main disadvantages of using SaaS are –
The business does not have any control over the software that it is using because it does
not have any license to the executable file. So, any tweaks and changes are not possible.
This also allows the service provider to change the software which may not at all times help the business.
User data and business data is all available on the database of the service
provider and so data security can be a concern.
There are advantages as well as disadvantages to SaaS and its use. But, in the current
scenario, small businesses find that SaaS is a better way to save money on licensing
and maintenance of expensive software.
We hope you find our information of Value
Thanks the TIB team