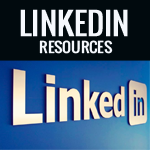 LinkedIn is known as the world's largest
professional network. It has features that
enable you to stay in touch with
other professionals.
We have collected some of the best
LinkedIn tools for you.
Here they are in no particular order:-

Outlook Toolbar :- This Microsoft Outlook tool is an excellent
way to have full-time access to your LinkedIn contacts and
information even when you are not on the LinkedIn Web site.
Share on LinkedIn: – You can share webpages with your professional
network and groups from your browser even when you're not on LinkedIn.
LinkedIn Mobile :- From your mobile device, get the latest industry news,
network insights, and connection updates when you're on the go.
Company Insider: – This widget works great for news sites and blogs,
letting readers connect to people at companies you mention.
Lotus Notes Widget 1.0:- This plug-in displays LinkedIn profile,
status, and other information in the Notes 8 sidebar.
Browser Toolbars (IE & Firefox):- The LinkedIn Browser Toolbar allows
you to directly access the LinkedIn and search from anywhere.
You can easily see the LinkedIn profiles of everyone sending you Web mail.
Profile: – Show your LinkedIn profiles on your blog,
website, or application with this widget.
We hope you find these tools of value
Thanks
The TIB Team