Adsense is the most popular online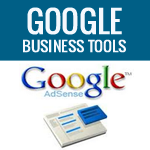 advertising network used by many
small and big site owners.
There are many adsense tools available in the
market however we have collected some of the
best of them for you.
 Here they are in no particular order:-

1: AdSense Sandbox: – This tool shows you Google ads that
are based on content or keywords. You can use it effectively
to help out your own ad campaign.
2: Adsense Preview Tool: – This preview tool generates a preview
of what ads may be displayed on a page in an easier way.
It is very easy to access and gives full information.
3: Adsense Notifier: – This notifier keeps you informed about the
important stats like total clicks, daily earnings, impressions, CTR, etc.
4: Word Tracker: – Sign up and get unlimited access to the services
provided by work tracker. This tool helps you to know how often
people search for a specific keyword.
5: AdsBlackList.com – This tool automatically generates an AdSense
Competitive Ad Filter list of most commonly filtered Made
for AdSense low click paying sites.
6: Traffic Estimator: – To use this tool, you must have an AdWords account.
This Estimator enables you to figure out what keywords result in the
highest paying AdSense ads.
We hope you find these tools of use.
Thanks
The TIB Team