Why Social Media Engagement is important
Engaging with your customers via the main social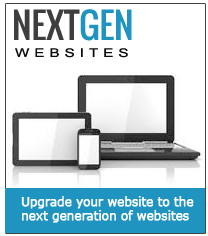 media networking channels like Facebook and Twitter
is important as its claimed that social media activity
forms part of today's overall customer purchasing cycle.
Here are some statistics to reinforce these
claims re Social Media Engagement
This presents opportunities for Business , the secret is to push all sales related
information and product updates out via these channels simultaneously,
ideally via your website, this keeps information fresh and your audience
engaged as saves you valuable time as you only have to update
content in one place as opposed to several.
Automatic Publishing via your website
A dynamic next generation website will enable you to achieve this
and much more, we offer the latest in next generation websites that
have the latest features including social media integration.
Additional benefits or upgrading your website
Also as the search engines are quickly moving towards a non-static ranking system
that uses a new range of criteria including a websites profile in terms of
social engagement this can also assist with your future search engine
rankings, therefore further strengthening your online profile.
How to upgrade your website
Our associates over at Next generation websites offer a number of choices and
provide a complete service that can help you upgrade your
website to the next generation of responsive websites at
really competitive rates.
Thanks the TIB Team