It's has been claimed that by next year the car will be the third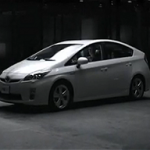 most-connected place in which people spend time;
this is according to Intel's Staci Palmer.
Also  research firm Gartner announced that they predicted that
consumer vehicles will represent one of the fastest-growing markets
for computer technology and Internet content in the next two years.
This is because of the growth in speed and coverage of
wireless internet networks and the demand for internet
services from customers in their cars.
These recent claims have also coincided with a rise in activity in a number of sectors
as it becomes apparent what opportunities will arise in a new sector being dubbed as
the Connected Car
Some recent interesting announcements on this topic have been:
US Wireless internet network provider Verizon
Verizon has recently announced the purchase of  Hughes Telematics, this will increase their ability
to connect more cars with their wireless service and also cater for the impending growth in demand for more
data as more cars become more connected and use an increasing level of remote services powered by
mobile internet and the cloud, more date means more revenue for the company,
this is something that the wider industry is watching very closely.

Intel Announces $100M Connected Car Fund:
Intel also appears to jumping in on the action, the world's leading semiconductor company, has recently announced an investment of $100 million in this area. According to Intel's Brian Wolf, managing director of Intel Capital, the company will use the fund to invest in firms that develop in-car technology that seamlessly integrate with other devices, such as Smartphones etc and of course these devices will need additional semiconductors.
Microsoft focuses more with its Connected Car team
While Intel might be a relatively new entrant in this area, Microsoft still leads the field when it comes to
in car technology systems as they partnered with ford nearly a decade ago and today the Microsoft's Sync system is now available in an estimated 4 million Ford vehicles.
Recent news from Microsoft Connected Car team suggests they are looking to integrate a range of their new applications coupled with voice recognition technology into the next-generation of Connected Cars.
In a recent interview, Ford Sync design engineer Ryan Dauzet revealed that the company's 2013 models will get a significant performance upgrade when it comes to their digital connectivity options.
So all of this activity points to the development of an exciting new generation of connected cars that will
use the latest 4G and wireless networks to stay connected to the cloud and provide a plethora of new services to their occupants while on the move.
Some other interesting articles on this topic:
Meet the Connected Car of the Future [INFOGRAPHIC] http://su.pr/2FyBQN
The Future of Connected Cars: What Audi is Driving Towards  http://su.pr/9bm9EN
The connected car  http://mashable.com/2011/02/26/connected-car/
The connected car: coming to your street soon: http://su.pr/1kfU0J#
Verizon leaps into connected car biz with Hughes buy : http://su.pr/436GoJ
Juniper Research: Nearly 100 million connected cars by 2016 http://su.pr/33rlId
Connected Cars Can Save Us From Gridlock: http://su.pr/5RSSdq
Microsoft Connected Car team plans to integrate Windows 8 and Kinect into vehicles : http://su.pr/5WRNGj
Watch this space for more articles on this interesting topic.
The end.