When considering the business marketing avenue using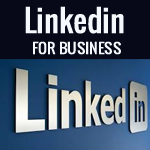 social media, the first choice that usually comes to
any mind is Facebook. However, you may be overlooking
certain social networks that may bring your business
the visibility and popularity it has been looking for.
LinkedIn as a networking tool
LinkedIn provides you with multiple tools that can assist you
in networking, and also help you to build a professional following as well
as develop prospective leads. When you jump to the opportunities that
LinkedIn offers, it will amaze you how this social medium
can take your business to another level.
Effective Tips to Achieve Exposure Using LinkedIn
Get your profile page optimized
Optimization of your LinkedIn profile page to achieve search engine marketing
is a great way to build an excellent online reputation. Employ relevant keywords
and get your staff to link to your business site from their pages; this way,
you can structure a result-oriented SEO plan.
Use your profile page to promote your blog
When you embark on your blog promotion via your LinkedIn profile page, your
business will generate visibility, and you will become an authority in your niche or market.
Also, prospects who may not have taken note of your offering before now will be attracted.
Event Creation
This is a great way to engage your prospects and eventually generate leads.
There is no restriction to the number of people, or who you can invite to your
event; it is a way to get people connected and retained at all times.
You can start up a group
The group should be relevant to your industry; this way, you can build a following
made up of your target prospects. Connections achieved via the group you
created can translate to prospective leads for your business.
Participate in events within the network
For instance, provide answers to questions asked by members of the network;
this is another great way of establishing yourself as an authority within your niche and
also achieving a higher level of visibility. If you keep on offering valuable information
to other users, before long, you will be seen as a source of
knowledge – which helps you generate reputation.
Explore other social network marketing media you may have ignored
in the past and start building and expanding your business's network.