The iPhone comes with the Safari browser as standard.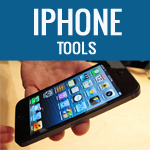 However there are many other browsers available online
that can make your mobile browsing experience a pleasure.
We have collected some of these browsers for you
and they are listed in no particular order:-
1: Chrome : – Chrome provides tight integration with Google
accounts and services. You have the search built into the menu bar.
It also has very some nice user interface options.
2: Opera Mini Web browser: – This browser is very effective when you
are on a slow crowded network or away from Wi-Fi.
3: Switch: – Switch lets different people browse the web on a single iPad.
They can keep their own history, bookmarks and tabs while doing that.
You can also import and export your bookmarks. Best thing is that even
folders are now supported for bookmarks.
4: Dolphin Browser: – Dolphin is another excellent browser for iPhone,
iPad (Mini), and iPod Touch with refreshing User Interface. It also
helps you to sync tabs and bookmarks between multiple devices.
5: iCab Mobile:- This browser comes with configurable multi-touch gestures.
It also has option to pass the current web page to another App on the
device which can open the page.
6: Atomic : – Atomic offers tabbed browsing and it also has the ability to
import bookmarks from Safari. It also helps you to customize
your apps in many ways.
We hope you find these browsers of value
Thanks
The TIB Team