Measuring the traffic or visitors numbers to your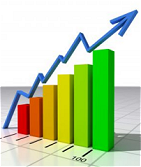 business website is an important aspect of business today,
There are some great tools online that help
you achieve this, here is a list of some of these.
Google Analytics
Google Analytics is the enterprise-class web analytics
solution that gives you rich insights into your website traffic
and marketing effectiveness.
Powerful, flexible and easy-to-use features now let you see and
analyze your traffic data in an entirely new way. With Google Analytics,
you're more prepared to write better-targeted ads, strengthen
your marketing initiatives and create higher converting websites
Yahoo web analytics
Yahoo! Web Analytics is a highly customizable, enterprise-level website analytics system designed to help website businesses increase sales and visitor satisfaction, reduce marketing costs and gain new insight on online customers. By storing data in raw, non-aggregated form, Yahoo! Web Analytics is more than simply a reporting tool. It is a powerful, and highly flexible, data analysis tool. Both near real-time and historical data can be segmented instantly and visualized with advanced graphs to help marketers and site designers answer specific business questions and find new insights to improve their business.
Wroi
A suite of time-saving tools for internet marketers Consolidated reporting of all your online advertising results. Tracks your PPC search advertising, banner ads, e-mail marketing – any place you can use a unique URL, even offline advertising. Quickly dig into your ad campaigns to identify the ads, landing pages, keyword bids and actual search phrases that generate your signups and sales. Just as easily pinpoint the ones that don't convert, costing more than the revenue they generate.
Clicktale
It takes the guess work out of website optimization, conversion analysis and usability research. Knowing how visitors use your website will enable you better target specific audiences, improve customer satisfaction and increase conversion. Use ClickTale to analyze the performance of your online forms, keep visitors engaged in page content, and lead them through the conversion process.
HyperTracker
Make more. Spend less. With this proven, automated, easy-to-use tracking management tool that gives you a kind of 'psychic' ability with every marketing step you take, The all-NEW hyperTracker Professional 2.0 is a sophisticated tracking management system that helps you to convert more clicks into customers and save wads of cash wasted in unproductive marketing.
CrazyEgg
When you start using Crazy Egg, you specify your page and consider it as a piece of real estate on your site, and all you have to do is to track data only for a limited amount of time. Crazy Egg is a simple, focused and affordable tool and we don't try to do everything else; that would lead to a very expensive price…that is not our plate.
Compete
Compete's traffic and engagement metrics show how your competitors are attracting and keeping customers online. Understand what sites and channels are their most productive, newest, or untapped so you can stay competitive, reverse engineer more effective traffic acquisition strategies, and fine-tune your own marketing efforts. Utilize Compete's demographic data to understand visitors that your competitors are attracting online – including a breakdown of age, income and gender – then leverage this information to better target your online marketing and gain market share. Demographic data is available trended up to two years.
Kissinsights
It's the smarter choice for getting answers. Being open to customer feedback doesn't necessarily mean you want your competitors to be able to read it too. Your KISSinsights responses are only accessible to you – not posted to a publicly available website. Know exactly who's responding – a new trial user or a long-time paying customer. Yes, polite! It's generous of our customers to spend their time giving us feedback, so we don't want to abuse that relationship. We limit our surveys to 2 questions – so they can answer and get back to using your site.
4Q by iPerceptions
4Q is a website survey tool which allows business owners to evaluate the online experience, measure customer satisfaction and quickly implement website improvements based on real visitor feedback. Fast setup gets you collecting customer feedback in under 5 minutes. 4Q Free allows even the smallest websites to measure visitor satisfaction. Need more features or survey responses? Upgrade at the click of a button! Use real-time data to improve your website and increase customer satisfaction and task completion.
Twitalyzer
Twitalyzer knows who is in your social network and we know where they live, allowing you to be more targeted in your outreach efforts. Twitalyzer provides Twitter's most robust benchmark reporting,ranking Twitter users ten different ways.
We hope you find this list of use, thanks the TIB team