Cloud computing is a greatly useful tool for many businesses.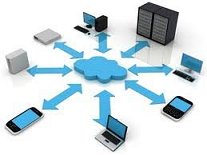 It is a name that most new, growing and even established
businesses are familiar with.
It is indeed without a doubt one key trend of technology
in the modern business world. However, not all businesses
adapt this technology and its benefits.
Despite predictions that cloud computing will go
mainstream this year, Gartner, a technology analyst firm,
stated recently that it will be one of the 2011's top ten
strategic technologies.
So what are the benefits it offers to businesses?
Read on and discover what the 'cloud' is all about.
What is the 'cloud'?
The word 'cloud' refers to the Internet. 'Cloud computing' is when an individual, organization,
or business firm accesses and stores data or resources through the Internet instead of doing i
t on a PC or server that is physically based in an office.
Nowadays, many new and developing businesses view cloud computing with less importance. Probably due to limited time and resources, a lot of smaller businesses failed to fully explore the 'cloud computing' and the benefits that come with this new technology.
Read on each discussion points below and see how 'cloud computing' can help in invigorating Information Technology for thousands of new and growing businesses in UK.
Cloud is affordable
Cloud computing is exceptionally affordable. It is one big advantage for smaller businesses. Using virtualization technology through cloud solution, all you have to do is rent what you need instead of purchasing a big server that you may never use to the full. It is very economical in terms of space allocation since all data are stored in remote locations and in-house server systems are no longer needed.
It is also very cost-effective in terms of operation up-scaling, of which is a vital benefit for many businesses. Business growth is significantly important especially nowadays when many businesses are facing a lot of pressure than ever before. Cloud computing is incredibly flexible and scalable as the business grows. Cloud model based IT allows businesses to easily, cheaply and efficiently scale up their IT provision without getting a new and expensive infrastructure. It is called "pay as you grow". It means that you will just pay for a service when you need it. Moreover, expansion is free.
Cloud improves accessibility
Generally, as businesses focus on development, the number of flexible and lone working figures rises up which results to the new trend of mobile working. Mobile working brings immense benefits to businesses. It helps in reducing travel costs, high retention of staff and increased in productivity. A recent study on UK business shows that flexible workers are 20% more productive compared to the office based workers. Thus, this new trend of flexible working offers a positive difference on many businesses.
The design of the cloud computing is basically to be used at a distance. It means remote working. Staff can access data or resources at home, while they are traveling and in the office. A snow barrage during winter can no longer hold a staff from working. Thus, the cloud computing helps in reducing business costs while providing a more flexible and efficient workforce.
Cloud is secured
Cloud computing is reliable and secure. Saving data, resources, programs and any valuable information in data center is the safest possible location. Losing data and important documents could bring a real disaster especially for new and growing businesses.
Adapting to the cloud computing offers more than just the recovery and back-up strategic plans; it provides far stronger strategies to best protect important information and the entirety of the business.
Growing businesses with cloud
A very exciting advancement, the cloud computing is certainly one of the most important technology for businesses nowadays. Nevertheless, this is not just for big companies; this strategy is also for smaller businesses. In fact, it offers extreme benefits to new and growing businesses. It provides affordability, trouble-free up scaling, supports mobile working and secures important business data.
Cloud computing drives forward new businesses' IT strategies and present efficient ways of working. It carries improvements to their IT provisions and the business as a whole.
Summary
Cloud computing is a scalable and affordable IT solution that can change and grow with the business.
Cloud computing is an IT set up that is vastly and easily accessible. It supports remote and flexible working measures.
Cloud computing is reliable, secure and comes with a comprehensive disaster recovery.