Technology and eCommerce in particular may seem

like an enemy to many a brick-and-mortar retailer.
With so many shoppers going online, owners of
retail stores need to ramp up their game to stay profitable.
One way to do this to embrace the ostensible enemy:
Use technology to draw customers to your retail store,
and ensure your business is running at its best.z
Not sure where to start?
Here are the top 5 ways to harness technology for your retail store:
CRM: Using a Customer Relationship Management (CRM) system will allow you to keep track of your frequent customers and provide an improved customer experience. This will help you structure the way you deal with both current and future clientele. A detailed order history will allow you to see what that customer has purchased in the past, and recommend new items based on those preferences. More and more businesses are adopting CRM, with an estimate of 51% of North American companies adopting CRM in 2011.[1]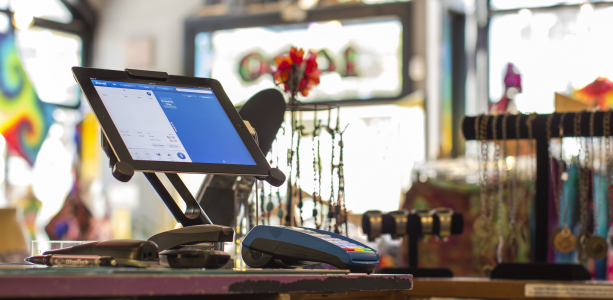 Loyalty program: Another way to improve the customer experience is make sure your store has a loyalty program. A loyalty program will give repeat shoppers a reason to come back, as well as draw in new clientele. Take this one step further by integrating it with a CRM system, as mentioned above, and keep track of customer buying behavior and point accrual. For an even more technology-oriented approach, adopt a loyalty program that utilizes customers' mobile devices. This will build engagement, and will give you a digitized way of keeping track of your loyal customers.
Social media: With more and more shoppers going mobile, make sure you maintain a strong social presence for your store. Create and update Facebook, Twitter, and Pinterest accounts for your business, and be sure to post plenty of photos. According to FastCompany, photo posts account for 93% of the most engaging posts on Facebook.[2] If business is slow, post status updates to draw customers into your store.
Inventory management: Every retailer knows that keeping track of your inventory is key. Save yourself time and money by installing an inventory management system for your store. Instead of manually counting every piece of inventory–and spending hours in the stockroom searching for a specific item–use a system that automatically deducts an item from your inventory with each sale. This will help you keep track of your best-sellers, as well as let you know when you need to reorder.
Adopt an iPad POS: The above tools are all great for using technology to your advantage, but you can make the most out of them by adopting an iPad POS system for your retail store. With a cloud-based iPad point of sale, all these tools will be in one place, and tracking your sales and inventory will be easier than ever. The sleeker look will complement your retail store's aesthetic, and will be certain to build customer engagement. Embrace technology at your retail store, and you will reap the rewards.
Author Bi0
Anna MacLachlan is a copywriter and content strategist for Revel Systems, the iPad point of sale solution based in San Francisco, California. A Montana native, she graduated from NYU with a Master of Arts in Humanities and Social Thought. When not writing for Revel, she enjoys learning French, riding her bike through San Francisco's Golden Gate Park, and reading Raymond Chandler.
[1]http://www.enterpriseappstoday.com/crm/crm-investment-on-upswing.html
[1] http://www.fastcompany.com/3022301/work-smart/7-powerful-facebook-statistics-you-should-know-about