Tweet on your BlackBerry with following tools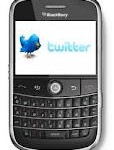 OpenBeak  – OpenBeak is mobile client for posting updates to Twitter.
It works over the data network, so you don't need to
use SMS. OpenBeak is the evolution of TwitterBerry,
and gives a name that allows the app to grow beyond both
the Twitter platform and BlackBerry smartphones.
Viigo – Viigo offers you the full Twitter experience.With support for multiple accounts, the ability to perform searches, follow public, friend or follower timelines, view favorite entries, replies, and direct messages, make tweets, direct messages, replies, retweets, follow or un-follow and favorite article.
Blackbird – A Twitter client for BlackBerry smartphones.Blackbird is another BlackBerry Twitter client with only basic functions, but its interface might be easier to handle than BBTweet. Instead of integrating with your Messages app, Blackbird has its own, bare interface. It lists your timeline, allowing you to view them and then easily reply.
Tweetr – With Tweetr for the iPhone you don't need to leave the app to do many of the common fiddly tasks like finding an address on the map, adding photos or videos, or finding a link to your favorite blog post
Echofon for iPhone – A clean iPhone Twitter app with push notifications and unread tweet syncing with your computer.It's easy to view your timeline, messages, replies and favorites. Echofon has a powerful Tweet-authoring screen that lets you write Tweets, upload photos and video, even update your current location.