Email Marketing Tools
Email marketing is very effective strategy to help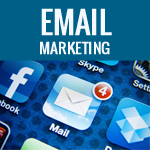 you engage with your online audience. It provides better
returns on investment and customer engagement
metrics than other marketing technique.
We have collected 14 effective email marketing tools for your business.

Here is the list in no particular order:
1: Bench Mark: -Like any blog or a document you can edit your email with Bench Mark.
You can add your own logo and photos as well.
2: Interspire: – Interspire is used by thousands of organisations. It comes with Google Analytics
integration and there is no list size limits or fees that you have to pay.
3: Constant Contact: – Constant Contact helps you to reach your customers.
You can also run promotions and offers on your Facebook page with this tool.
4: Contactology :- You can test your email quality with the cool spam checker tool available with Contactology.
5: Aweber: – AWeber's servers with professional email signup forms & autoresponder
services which make it easy for you to build your email list and keep in touch with your audience.
6: CakeMail: – If you sell marketing services, CakeMail is worth looking at also.
7: BetterMail: – From bettermail, you will get good tutorials for guidance.
You can trigger emails and concepts that should increase your
relationship quality with the help of emails.
8: Campaign Monitor: – With Campaign monitor, you can send beautiful email newsletters.
You can attract new subscribers and see your results with stunning reports.
9: JangoMail: – Based on the profile of each receipt, JangoMail helps you to insert custom content.
10: MailChimp: – MailChimp enable you to design excellent email campaigns
and track your results.  You can also share the same on social networks.
Also, this facilitates foreign language capabilities.
11: BombBomb :- If you want to send a video in an email, BombBomb solves this purpose.
12: Active Campaign: – This is one of the popular automated email marketing
tools available in the market that helps you to activate personalized
campaigns to run on their own.
13: MessageSherpa: – This tool helps you to easily embed or place the content that
you have collected from various social sources like Twitter, Facebook, and YouTube etc in your email.
14: Big Response: – Big responses have many good features like Email Newsletters,
Split Testing, Campaign Reporting, Autoresponders. You can get best results with
the available features of Big Responses.
We hope you find this list of Value.
Thanks the TIB Team