Pinterest is a great tool for collecting and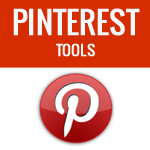 organizing things you love online.
It was also the fastest growing social network
in 2012 with a growth of 1047%.
Pinterest allows users to save (pin) and
organize images and videos into different
groupings called boards.
Pinterest is a promotional tool for Business
Pinterest is a great promotional tool for business.
We have collected some of the best Pinterest tools and
list them here in no particular order:-
Pinalytics : – This tool helps you to discover, track and evaluate content and interactions on Pinterest. You can reach new audiences and gain the most return from Pinterest.
PinAlerts : – With this tool you will get to know whether someone has pinned something from your website on a real time basis. It enables you to respond quickly and and say thanks to others.
Pinstamatic : – Get an extra edge over your competitors by adding quotations and by sharing music on your boards. Impressive features aren't they!
Woobox :- You can use Woobox to run contests as they are great promotional tools.
In fact Pinterest offers the perfect medium for running a contest, so why not utilize this feature.
Repinly: – Keep yourself updated on what's happening on the popular social networks.
It's a great tool for boosting engagement and for elevating follower numbers.
Shopinterest : – Shopinterest enables you to open up your own Pinterest store to sell your products.
Piqora : – Get a complete Pinterest dashboard that includes analytics and pin scheduling.
With a unified dashboard, you will get to know which pins are most engaging and their eligibility as well.
Pinpuff : – Measure your influence and reach on Pinterest. It also makes decisions on monetary
value of your pins & traffic your pins generate.
PinBooster : – PinBooster endorse your business on Pinterest.
You can increase your follower base and in turn generate leads out of them.
ShotPin : – This Chrome extension makes it easy to take a screenshot
of any web page then share it on Pinterest.
Followers on Pinterest : – This app helps you to find out who isn't following you back.
You can track new followers, follow and unfollow users.
You can also discover new people and boards to follow.
We hope you find these tools of value
Thanks
The TIB Team