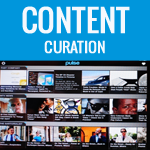 Content is the Lifeblood of the Internet.
With millions of people and organizations making and
sharing vast amounts of content using social media daily
it presents opportunities for your Business.
Why is Content Curation so important to your Business?
Content curation is the process of sorting through online content and sharing
the best with your followers, this is a key strategy to building a
strong following for your Business or Brand.
Great Content Curation tools for your Business?
We have collected 11 of best content curation tools that will help you to gather information
from various sources and share it with your online community; these are in no particular order:
The list:
1: Scoopit : – This is a great tool for sourcing  and sharing content, you can set content sources by keyword or by rss source, you can then also reshare via all the top social media channels like twitter and facebook, google + plus pinterest etc, one of our favorite tools.
2: Pinterest: – This is a great source to discover content visually.
This service allows you to pin videos, images and other objects to your pinboard.
3: Themeefy: – Themeefy allows you to add web links directly from your page and insert content
from Twitter and Facebook; you can also customize the theme as per your requirement.
4: MyTweetMag: – This tool helps you to curate your topic and show what your interests are.
5: Flipboard: – This app is basically for iPad and iPhone users.
You can convert their content into a beautiful and appealing magazine.
6: Collected: – With this tool, you can collect online feeds from various sources
like video services, blogs or social media and create a blog-like stream covering a certain topic.
7: Bundlr: – Curate your favorite topics on the Web and publish it to your social networks.
You can bundle images, text, videos or documents
from any website with the help of Bundlr's toolbar button.
8: Google Reader: – This RSS feed reader constantly checks your favorite blogs,
news sites and other RSS feeds for the recent content and pass it on to your stream.
9: Paper.Li:- Curate your Twitter, Facebook and other customized Web content into a visually appealing digital newspaper.
This tool updates your selected contents and publishes them daily on the Web on its own.
10 : Netvibes: – If you hate creating email newsletters, this is the tool for you.
Works with the FlashClipper curation app to let you easily curate, produce,
& share great-looking email newsletters in just a few minutes.
11: FlashIssue: – This tool works with the FlashClipper curation app that will
let you easily curate and share great-looking email newsletters.
We hope you find these resources of value and
wish you the best with your content curation endeavors.
The TIB Team